LA Hospital Budgets Hit Again by Latest Covid Surge
Monday, September 6, 2021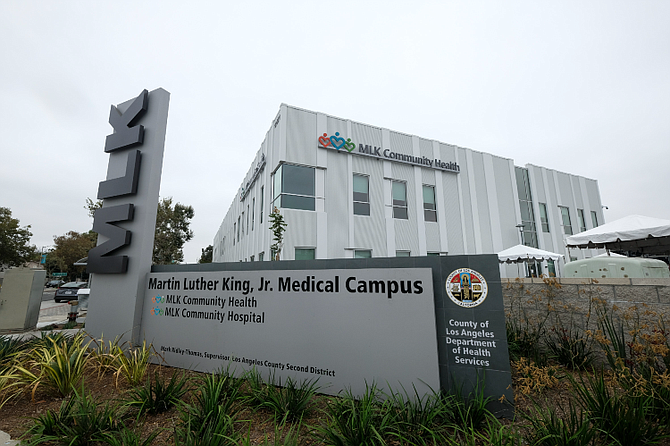 This was supposed to be the time that L.A.'s hospitals regained their footing after the devastating financial squeeze from last year's initial phases of the Covid-19 pandemic.

Instead, as the delta variant sweeps through the region, many local hospitals are once again facing financial pressures as they scramble to maintain sufficient staff, secure protective professional equipment and convince people it's safe to schedule surgeries.

Except this time, there's little additional government aid expected to come to the rescue. Hospitals are more on their own in 2021 as they face the current wave of infections and the likelihood of future Covid surges.

"Our hospitals were just starting to get back to break-even point when this latest surge hit," said Kevin Manemann, chief executive for the Southern California region at Renton, Wash.-based Providence Health, which operates six hospitals in L.A. County. "We're increasingly concerned about this surge, how deep it is and how long it continues."

Delayed recovery
Manemann isn't the only local hospital administrator casting a wary eye on the current patient surge and its potential to slow or even reverse hospitals' attempts to climb back out of the financial holes left by the early stages of the Covid crisis.

According to the Hospital Association of Southern California, a downtown-based industry group, each of the three previous surges left many local hospitals with operating losses that were not completely offset by the millions of dollars received in federal relief funds under the CARES Act.

George Greene, the association's chief executive, cited preliminary figures the hospitals submitted to the California Office of Statewide Health Planning and Development showing 35 out of the 83 private hospitals in Los Angeles County reported preliminary 2020 operating losses, up from 26 in the pre-pandemic year of 2019. Cumulatively, those losses reached $620 million last year, up from $450 million in 2019.

The losses came despite roughly $1.4 billion in federal relief funds, mostly from last year's federal CARES Act, that flowed into coffers of Los Angeles County hospitals. Without those funds, the operating losses at local hospitals would have been "ugly," Greene said.

And the 2020 losses didn't include the peak of the winter Covid surge, which hit in January and early February.

"By and large, our hospitals have not recovered from this past winter's surge," Greene said.
 
A major problem, he said, is that little government relief money has come in so far this year. Unlike some neighboring counties, the Los Angeles County Board of Supervisors has so far chosen not to direct to local hospitals any funds from the county's $1.9 billion allocation from the $1.9 trillion American Rescue Plan Act signed into law by President Joe Biden in March.

Staffing shortages
Yet that's not the most pressing problem local hospitals are facing.
Acute staffing shortages are forcing local hospitals to rely more than ever on nurse and other health care provider staffing agencies.

Historically, most hospitals have relied to some extent on these staffing agencies to keep up nurse staffing ratios and provide adequate care. But the Covid pandemic has exacerbated this need considerably. Last year, it was all hands on deck for nurses, physicians and other health care staff at hospitals as the first waves of the pandemic crested through the region.

But this year, increasing numbers of nurses and other staff have quit due to burnout after working more than a year with longer shifts and under extremely stressful situations.

Providence's Manemann said the longer shifts resulted in "significant overtime costs" and in higher-than-usual cases of care provider burnout and exhaustion.

What's more, significant numbers of care staff themselves were infected with SARS-CoV-2 and had to quarantine to fight the disease.

"We did have staff affected by Covid, and they had to isolate for two weeks at a time," said Victor Carrasco, chief executive of East Los Angeles Doctors Hospital. "This hit us hard during the winter surge, and it was hard to find qualified replacements. We had to pay top dollar for contract labor."

Some hospitals say they are better positioned to cope with the staffing shortages. At Cedars-Sinai Medical Center in Beverly Grove, hospital administrators say they have enough resources to ensure adequate staffing.

"We have been able to supplement our staff with agency workers during pandemic surges and take care of our community without additional federal Covid-19 support beyond the CARES Act funds we received," according to a statement provided by Cedars-Sinai.

And at Martin Luther King Jr. Community Hospital in Willowbrook, administrators built into the current budget cycle a higher allocation for staffing, according to a statement.

"All hospitals regularly use nurse travelers to address seasonal fluctuations in need for care (flu season, for example)," the statement read. "MLKCH is no exception. We pay market rates to assure adequate staffing and quality care. Projections for this need are built annually into our operating budget."

Surgery revenue down
On the revenue side, most private hospitals in Los Angeles County saw scheduled surgeries — their principal source of patient revenue — plunge during the initial pandemic lockdown when nonemergency procedures were banned. Even as the ban was lifted in May 2020, people still stayed away from nonemergency surgeries out of fear of exposure to the coronavirus.

This trend, in turn, prompted hospitals to launch a marketing campaign aimed at reassuring people it was safe to go to local hospitals for surgeries.
But that hasn't worked completely.

At East Los Angeles Doctors Hospital, for example, scheduled surgeries have yet to recover fully.

"Surgeries are back to about 80% of pre-pandemic levels," Chief Executive Carrasco said. "It's still a drag on revenue."

The situation was better at Providence Health's six Los Angeles County hospitals — at least until the delta variant surge hit.

"We were approaching pre-pandemic surgery levels," Manemann said. "That helped us regain our financial footing."

But in recent weeks, and as the delta variant surges, Manemann said people are once again putting off scheduled surgical procedures.

Now, as with so many aspects of hospital finances, it's wait-and-see as to how long this wave lasts and if and when more Covid case su–rges might occur.

"Hospitals, even 18 months into the pandemic, still remain ready, willing and able to provide patient care in communities," the hospital association's Greene said. "But for some hospitals, as the (operating) losses add up, are having to take a hard look at some of their service programs to the community."
For reprint and licensing requests for this article, CLICK HERE.