Navitas Semiconductor Goes Public With $1.7B Valuation
Monday, October 25, 2021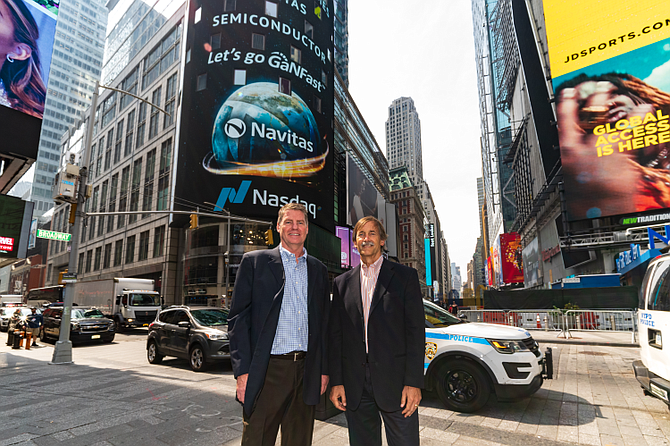 Seven years after co-founding Navitas Semiconductor Inc., Chief Executive Gene Sheridan got to ring the Nasdaq opening bell on Oct. 20 in New York City.
The event ushered in a new chapter for the El Segundo-based company, which began trading under symbol "NVTS" at about $13 a share for a market value of roughly $2 billion.
 
"I was pretty nervous, but it was fun and very exciting," Sheridan said. "The (venture capital firms) will always tell you, it's 1 in 100 (chances) that you'll get an IPO, or 1 in 50, it's almost always an M&A exit. … So, we tried to just build a great company. We certainly don't see an IPO as an exit, per se. It's really just the next step to gain a liquid currency and, more importantly, access to capital, so we can grow even faster."
 
Navitas develops gallium nitride semiconductors that are used in chargers for various products, such as smartphones and laptops, as well as in consumer electronics and data centers.
 
The company's customers include Dell Technologies, Lenovo, LG Electronics, Xiaomi, Guangdong Oppo Mobile Telecommunications Corp. Ltd. and Amazon.com Inc. To date, Navitas has shipped more than 18 million chips that "enable faster charging, higher power density and greater energy savings," than their silicon-based counterparts, according to the company.

The chip-maker has more than 170 employees and offices in Ireland and China. It filed for an initial public offering on Dec. 7 via a reverse merger with Live Oak Acquisition Corp. II, a Memphis, Tenn.-based blank check company. The transaction was approved by shareholders on Oct. 13.

Navitas expects $27 million in revenue for 2021, generated mostly from sales to mobile sector manufacturers. With an influx of $320 million from going public, the company anticipates its revenue will more than double next year, enabling it to expand into developing chips for data centers and the solar industry in 2024, as well as electric vehicles by 2025.

Before co-founding Navitas, Sheridian and Chief Technology Officer Dan Kinzer worked for El Segundo-based International Rectifier Corp. until it was acquired by Infineon Technologies in 2015.
For reprint and licensing requests for this article, CLICK HERE.