LA's Pumpkin Patches Scare Up New Business
Monday, October 18, 2021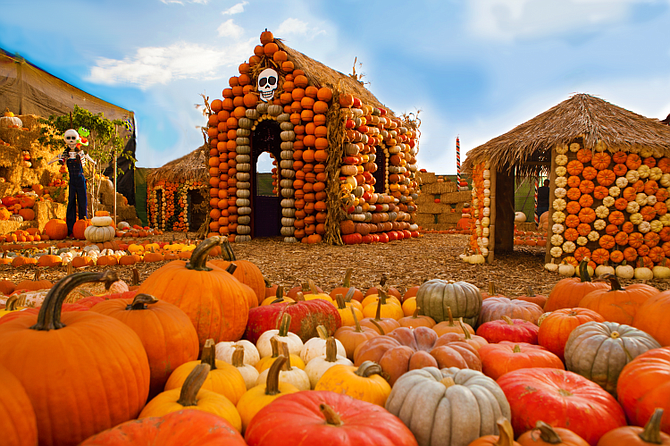 It would scarcely be Halloween without glowing jack-o'-lanterns and decorative munchkin pumpkins on display, and every year, an array of Los Angeles businesses engineer festive pumpkin patches where families come to buy a pumpkin and kick off the holiday season.

Well over a dozen large pumpkin patches pop up across L.A. every fall — many of which convert to Christmas tree lots within weeks. Far from the rural settings where pumpkins are actually grown, these urban pumpkin patches generally make up for a lack of pastoral authenticity with photo-op displays and a range of family-friendly activities.

"We've always had a straw maze and a petting zoo and a bounce house," said Lyra Marble, owner of the long-running Mr. Bones Pumpkin Patch. "We've also put the face of Mr. Bones on a slide and we've created giant inflatable bouncers (in the shape of) dancing spiders."

Established in 1987, Mr. Bones Pumpkin Patch was originally located near the Los Angeles Country Club but later moved to West Hollywood before finally landing in Culver City, where it remains today.

Marble said the size and scope of the pumpkin patch have expanded over the years, and today, the attraction even includes elaborate pumpkin houses and a pumpkin marketplace that sells 40 different varieties of the seasonal gourd, grown by farmers in Oregon and Central California.

Like many other Halloween-related businesses, Mr. Bones is looking to bounce back from a challenging 2020. For the first time in more than three decades, it didn't open last Halloween due to the pandemic.

"To have such a long history and suddenly not open for a year is a shock to the system," Marble said. "I just didn't see a way to do it financially and to ensure that everyone could stay healthy."

According to the National Retail Federation, the number of Americans celebrating Halloween dropped to 58% in 2020 from 68% in 2019, while consumer spending fell by nearly $1 billion.
 
With pandemic-related safety precautions easing, however, industry analysts expect a bounceback this year. The Retail Federation predicts consumer spending will hit
$10.1 billion in 2021, good for an all-time record.

"Opening this year will be the real test," said Marble. "Did people forget about us? Or are they so thrilled we're back that they come out?"
Not all pumpkin patches stayed away in 2020, though, and one even carved its way into the space by launching last year. A new pumpkin patch attraction at the Taubman Co.-owned Beverly Center opened for the first time in 2020.

Jackie Plaza, marketing director for the Beverly Center, said opening a pumpkin patch allowed mall operators to take advantage of underused outdoor space along
3rd Street while appealing to visitors wary of crowded shopping spaces.
"We wanted to create an experience that was friendly for social distancing ... to remind the community that we are here for them and that we offer these kinds of community initiatives," Plaza said.

The attraction was successful enough that it will return this year with pumpkins also being made available for purchase at concierge desks within the mall.
"We're really trying to give our guests the opportunity to enjoy that fall experience," Plaza said. "You've got your traditional patches outside of L.A., but this is one that's really in the heart of the city, and it offers photo moments and really fun crafting and seasonal food (events)."

Plaza said the Beverly Center partnered with Woodland Hills-based Mr. Jack O' Lanterns Pumpkins to source materials for the patch, as well as the pumpkins themselves.
 
Mr. Jack O' Lanterns operates four pumpkin patches in Los Angeles, including one down the road from the Beverly Center at the Original Farmers Market. Co-owner Brandon Helfer said the business sprung out of a Christmas tree-selling enterprise he started in college with business partner Scott Sanchez.

Helfer said selling pumpkins seemed like a good way to build a more recognizable brand and make better use of temporary permits required for the seasonal business. As it turned out, Helfer said, operating a pumpkin patch came with its own unique set of challenges.

"It's a completely different business," he said. "A pumpkin patch is more kid-based and more activity-based. A (Christmas tree business) is basically just selling a product."
Helfer said figuring out what experiences visitors will be interested in is just as important as ensuring they will be able to find the type of pumpkin they want.

"A lot of patches have kind of a corporate vibe," Helfer said. "With us, it's very boutique and family-owned. We try to get rid of stuff we don't necessarily need to give families a more intimate experience."
For reprint and licensing requests for this article, CLICK HERE.