Universal Hydrogen Raises $62 Million in Series B
Originally published October 14, 2021 at 10:59 a.m., updated October 20, 2021 at 8:07 p.m.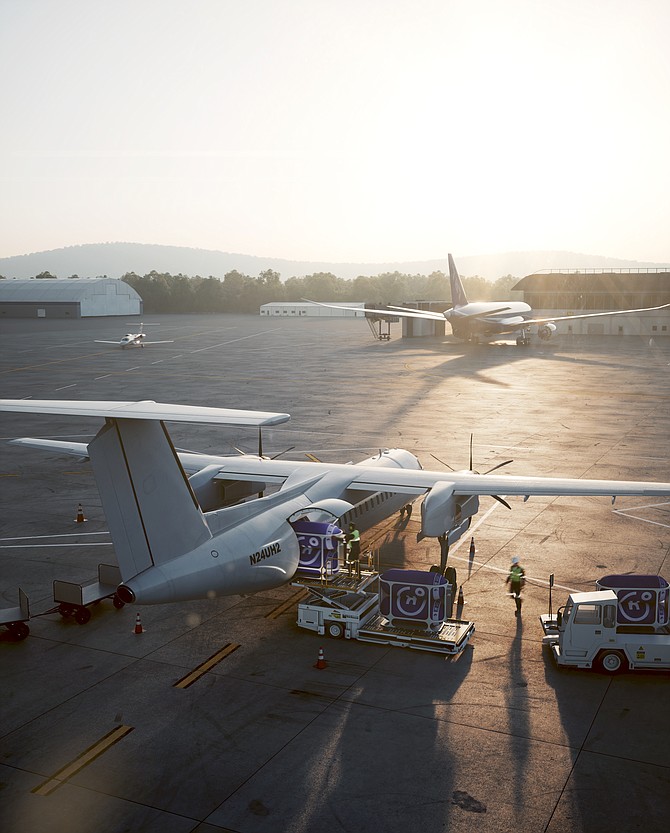 Venice-based Universal Hydrogen Co. raised $62 million in Series B funding for its carbon-free aviation fuel solutions.
The funding round, announced Oct. 14, consisted of a host of venture capital firms including Mitsubishi HC Capital, Tencent Holdings, Time Ventures and 75 and Sunny Ventures. The company also received backing in the round from aviation companies GE Aviation, a subsidiary of General Electric, and Waltzing Matilda Aviation.
The investment brings Universal Hydrogen's total funding to $85 million, more than four times the company's previous funding. The funding round was oversubscribed, meaning the company gained more money than it asked for, and comes less than 6 months after the company's $20.5 million Series A round.
Universal Hydrogen plans to use the funding to conduct its first test flight of its hydrogen fueling technology, utilizing a more than 40 passenger regional airliner for the test. The company is currently planning to conduct the test in 2022 at Moses Lake, Wash.
"Universal Hydrogen has attracted an incredible investor syndicate, representing key strategic and financial partners across Europe, the United States, Asia, and Australia," Peter Barrett, member of Universal Hydrogen's board of directors, said in a statement. "This is a testament to the company's pragmatic approach to the monumental — even existential — challenge of our generation and the world-class team that Universal Hydrogen has catalyzed around it."
Founded in 2020, Universal Hydrogen is developing carbon-free, hydrogen-based fueling options for airplanes. The company develops and plans to sell kits to help convert planes to hydrogen-based fuel, rather than burning hydrocarbon fuels for power. The company also is working to develop a hydrogen logistics network, which would connect hydrogen production facilities with airports, allowing its fuel cells to be seamlessly delivered and reused.
Along with its headquarters in Los Angeles, Universal Hydrogen has an engineering center in Toulouse, France, and a flight test center in Moses Lake.
The company is currently targeting small, regional commercial airlines for its products. It has already signed letters of intent to sell dozens of its conversion kits to Icelandair, Air Nostrum, Ravn Alaska and ASL Aviation Holdings. Universal Hydrogen aims to make kits available for commercial airlines by 2025.
"While regional aviation represents a sizable market opportunity and an important early proof point in the fight against climate change, it is a small fraction of total aviation emissions," Paul Eremenko, co-founder and chief executive of Universal Hydrogen, said in a statement. "If we want to decarbonize the industry on the timeframe of the Paris Agreement, the world's narrowbody airliner fleet has to become hydrogen-powered starting in the 2030s. There is no known alternative technology to get there."
For reprint and licensing requests for this article, CLICK HERE.