Warner Chappell Music Licenses With Products, Social Media Help Make Up for Performance Losses
Monday, November 29, 2021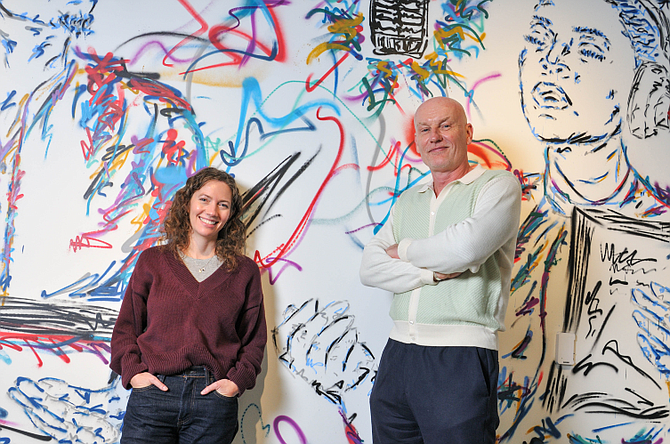 Warner Music Group Corp. may be the smallest of the "Big Three" recording companies alongside Universal Music Group and Sony Music Entertainment, but it's a designation that downtown-based publishing arm Warner Chappell Music Inc. co-Chairs Guy Moot and Carianne Marshall acknowledge with pride. The duo said the company's size allows it to be nimbler in making deals and servicing clients than the "oil tanker" girth of its competitors.
 
"To really dig into the service side and add value and evolve with the business but have a big enough reach to make it truly international and cohesive is really exciting," Marshall said

According to Warner Music's Nov. 15 quarterly earnings statement, the company's publishing arm is not its biggest revenue driver — that would be recorded music — but it is nonetheless a cornerstone of its success: Without the rights Moot and Marshall manage, none of the rest would be possible. Warner Chappell's catalog includes more than 1.25 million compositions, the Business Journal estimates.
For the three months ending Sept. 30, Warner Music reported $1.17 billion in recorded music revenue and $205 million in music publishing. The two divisions' gains matched one another closely year over year, however, with increases of 22% and 21% respectively.

Marshall, a 12-year veteran of Songs Music Publishing, the independent music publishing firm she joined in 2006, moved to Warner Chappell in 2018. Moot joined Warner Chappell shortly after, carrying a resume that included a stint at Michael Jackson's publishing company ATV Music and then at EMI Music Publishing, both of which were acquired by Sony Music. Despite their individual and combined decades of experience, the two didn't know one another well beforehand, but a love of songwriters paved the short road to them creating a shared vision as co-chairs.
"We like publishing because it's the very beginning … the very conception of the whole process," Moot said. "(Warner Chappell) had great assets and had a great legacy, but we wanted to put some ambition, some culture, some pizazz for it to have an identity."

New access points
Over the next two and a half years, Moot and Marshall worked to adapt their business strategy as the industry around them evolved, not just acquiring high-profile new songwriting credits but using ones from legacy artists in unique ways. In May 2019, for example, Warner Chappell acquired the four companies comprising the Gene Autry Musical Group, giving it licensing access to more than 1,500 songs written by or associated with "the Singing Cowboy," as Autry was called.
 
In May, the company purchased 50% of songwriter and producer Belly's catalog, which includes singer The Weeknd's hits "Earned It" and "Blinding Lights." Around that time, Billboard reported that six months earlier, the company bought a minority stake in Bruno Mars' then-232-song catalog, an especially hot property when Mars became the first artist to release five singles that qualified for the Recording Industry Association of America's Diamond certification, meaning they all sold 10 million or more copies each.

Closer to home, Marshall sees the differences between the way her children are introduced to new music and how she once was, and she has attempted to integrate that knowledge into some of the company's business strategies.
 
"The discovery of music is different now for any age range, but especially kids in their 20s," she said. "That group is genre agnostic, and you never know when somebody's going to get connected to a playlist or hear something while riding a Peloton, or checking into the new show on Hulu or Amazon or Apple."

Getting songs placed on platforms like these for consumers to hear involves music synchronization licenses, or "sync," which rights holders like Warner Chappell sell as an increasingly essential component of their business.
 
Marshall said the traditional way of generating these opportunities was to "hold on tightly and wait for the biggest price to get your biggest copyrights in a Super Bowl ad."
 
But while an ever-changing media landscape has challenged company leadership to keep up with the newest and most popular properties and platforms, the pandemic gave Marshall and Moot an unexpected opportunity, even as other revenue streams got interrupted.

For the 12 months ending Sept. 30, Warner Chappell reported total music publishing revenues of $761 million, and $122 million of that came from performance.
 
"Probably anywhere between 25% and 30% of our revenue is relying on performance income, which is coming from bars, club shows, live events, radio, TV and various other sources, so certainly, we took an impact in performance," Moot said.
 
"But the publishing business benefited from this digital age where home fitness comes out; TikTok was pretty big before, but I think it boomed even more," Moot said. "With people being in their houses more, we actually picked up a myriad of other new usages, gaming platforms, metaverse, Roblox, and learned a lot very quickly in that transition."

Getting in sync
Marshall and Moot subsequently developed what they call the "nine pillars" of their strategy — an initiative combining the foundation of the company's songwriting holdings with the connectivity of its established fleet of worldwide offices. Some of those pillars include more obvious focal points on sync, digital asset release and distribution, creative services (songwriter marketing) and production music (recordings precleared and ready-to-use in various media).
 
The duo indicated that the changes they implemented were not only structural but attitudinal to create new and different opportunities to get songs played in various types of communities and cultural settings.
 
"Music can come from anywhere these days, so we were really determined to make sure if you signed to a major publisher, you get this global infrastructure behind you," Moot said.
 
"What Guy's talking about is us really thinking about how to collaborate appropriately," Marshall added. "We restructured a bit of our team to make sure that there are global leads in all these specific areas, but they collaborate with the leads in the different countries, as well as us too, to make sure that we're thinking about what could work everywhere, not just in one place."

Marshall considers herself and Moot to be "custodians" of the Warner Chappell catalog.
 
"We're just as excited about hearing a new song from a big songwriter as we are discovering something cool in our catalog," she said. "We're thinking a lot about the entirety of the songs in our catalog and how to make sure that we keep them alive and introduce them to new artists and new demographics."

With decades of experience under his belt, Moot said he sees the ways the music industry has changed even more vividly than his co-chair. But even while acknowledging the increased complexity of work and level of service Warner Chappell must provide for its clients, he can't help but wax romantic about the payoffs that make that effort worthwhile.

"It's old-fashioned now, but I still get a kick out of hearing our songs on the radio or on a playlist," Moot said. "That's what gives us that kind of kick — we do a deal, we negotiate, you know they're cooking up something, and then you hear this music and you're like, 'Oh, this is so good.' That's music publishing to me."
For reprint and licensing requests for this article, CLICK HERE.