Tapatio Pandemic Losses Offset by Strong Retail Sales
Monday, November 29, 2021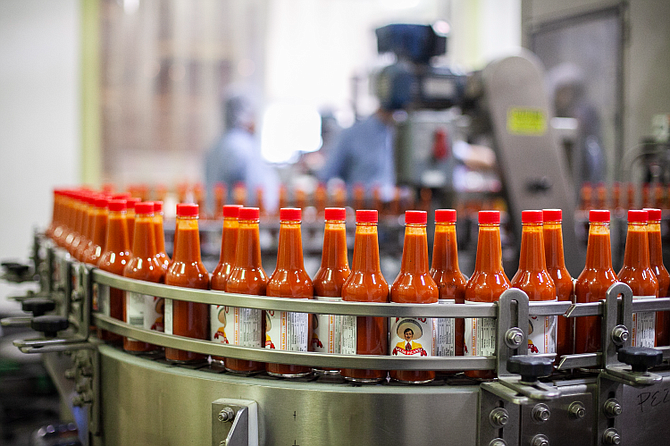 Luis Saavedra grew up in 1970s helping his father make hot sauce out of Tapatio Foods' 700-square-foot shop in Maywood, all the while dreaming of one day becoming a doctor.
 
"I would go in, along with my sisters, and we would (do) whatever needed to be done that wasn't done by his (one) employee," Saavedra said.

Somewhere between putting on the bottle caps and boxing the bottles, he found time to study, eventually finishing medical school and joining a private practice.
 
Still, the scent of cayenne peppers and strong family bonds drew him back in.
 
"Medicine was my passion — it's a beautiful art to be able to diagnose and treat a person," Saavedra said. "But at the same time, I would help out my father on my days off, or on the weekends, and the company was growing to a point where he couldn't handle it anymore. He was a very hands-on type of individual, and I knew it was getting to be much more than what he could handle and that either the company was not going to grow, or he was going to have to sell it, or the company was going to kill him — one of the three was going to happen."

Saavedra said being Mexican and also being the only son gave him a sense of obligation to help his father.
 
"And I knew that both of us could grow the business to what it is right now," he said.
And Tapatio Foods sure did grow — this year, it marked its 50th anniversary, providing jobs for 27 workers and operating two adjacent facilities in Vernon totaling 50,000 square feet of space. The company, which now includes Saavedra's sisters Dolores McCoy, who serves as legal counsel, and Jacqueline Mora, the office manager, is on track to end 2021 with more than $50 million in annual revenue, according to a Business Journal estimate.
 
"We have nationwide distribution, and we also sell to 25 countries, and we still want to keep pushing the product, not only in the United States, but worldwide," he said. "The main goal is to keep growing, to keep expanding and making sure there's product awareness, that people are exposed to the taste of Tapatio, and we know that when they are, they become loyal customers of ours."

Secret sauce
Saavedra's father, Jose-Luis, 92, is still involved in day-to-day operations.
Originally, his wife would make small batches of sauce that became very popular among his former co-workers at a local aerospace manufacturing company. He got the idea to sell his hot sauce in 1971 under the Cuervo moniker after he lost his job.
 
"It was really my mother's recipe," Saavedra said. "When (the aerospace) company closed down, they both made the decision to open up the hot sauce factory. It was just sold locally, in the East Los Angeles area, to small mom-and-pop liquor stores and mini markets."

The company name changed in 1975 to Tapatio — a nickname for residents of Guadalajara, Mexico — after the tequila-maker Jose Cuervo International Inc. reached out to them, looking to secure distribution rights in California without conflicts. The family agreed and used the proceeds to buy equipment.

Slowly, orders started to pick up, especially when Saavedra joined his father in 1984.

"For instance, (while making a batch of sauce) he would add a pinch of this, a spoonful of that, a couple of this, and I, with the medical background, said, 'No, no, no, we have to standardize this — we have to make sure that each individual batch is done exactly like the previous one or the one after that,'" he said. "And then also, I helped out in shipping and receiving. I would drive forklifts and assist in repairs of machinery. We just wore many caps in that business, just to make it grow."
 
Saavedra also excelled at sales, which was not his father's forte.
"It was a perfect one-two punch," he said. "He would stay in the office, and I would go out and try to drum up more business. So, it worked really well."
Appetite for growth
Saavedra Sr. helped the business move to Vernon in 1985. He found a 10,000-square-foot facility but asked the landlord to cut the space to 7,800 square feet so they could afford the rent.
 
"The revenue (was) very low because everything was done by hand," Saavedra said. "We didn't have full production as we do now."

A decade later, in 1996, Tapatio Foods outgrew the space, and the Saavedras were looking for a new one. They toured different buildings in Vernon, but none met their criteria — they were former machine shops or manufacturing plants and were not suitable for food production. When their real estate broker suggested they construct a new facility on an empty lot on District Boulevard, Saavedra was not too excited about the idea.

"I said, 'We haven't even remodeled our bathrooms at home; how do you expect us to build a state-of-the-art facility?' and he said, 'Look, all you need is the help of a great architect and a really great bank, and you can make your dreams come true,' and so we dove in head first, and we constructed a beautiful 30,000-square-foot building that met all our needs," Saavedra said.
 
He described the new space as a "breath of fresh air."

"Now we were able to warehouse a lot of raw materials, and we could take advantage of volume discounts, which saved the company a lot of money," he explained.
 
In 2005, the company also acquired an adjacent building, which provided another 20,000 square feet of space. The move enabled the company to increase production from its initial three sizes — 5-, 10- and 32-ounce bottles — to include a gallon size that was suitable for restaurants and individual packets that worked well for takeout orders and were a hit in the military.

By early 2000, Tapatio Foods had contracts with US Foods Inc. and Sysco Corp., which started shipping the hot sauce to restaurant chains nationwide.
 
"We would sell directly to the several Sysco warehouses throughout the United States, and that became very problematic because the cost of shipping is not the same to Los Angeles as it is to Boston or Miami or Houston, so there was different pricing for the product," Saavedra said. "Then, later on, we signed a national distribution agreement with Kraft Heinz, and now they take the product nationwide at one set price, and that has really helped us. It's taken a big load off us."

Tapatio Foods also participates in collaborations with complementary brands, which started with Gardena-based Nissin Foods Co. Inc. in the early 2000s.

"They were very interested in putting a packet of our hot sauce in their cup of noodle soups," he said. "We didn't put a single penny in their marketing, and of the three items they did with us, two were in the top five sellers using the Tapatio brand. It was an instant success."

It also worked with Frito-Lay's chips brands, including Doritos, Ruffles and Cheetos.
"It's basically a royalty agreement," Saavedra said. "They license the brand name, and then they pay us a royalty based on their sales … and let me tell you, those products sold incredibly, and we still have the Doritos Tapatio out in the marketplace."

A very small portion of Tapatio Foods' revenue comes from direct-to-consumer sales through its website, which is set up to serve consumers who live in communities where the product is not readily available.
 
During the pandemic, the sauce-maker's sales from food service dropped as many restaurants were forced to close for extended periods of time. Its retail sales, meanwhile, more than compensated for the losses.
 
"Since a lot of people have to stay home, they were forced to cook, and sometimes they needed to add a little something to their meals, and that's where Tapatio came in," Saavedra said. "We provided the spiciness, the flavor to the meals — something that I think saved a lot of families."
 
The company competes with McIlhenny Co.'s Tabasco Brand and Cholula Food Co., but Tapatio sauce holds its own.

"Most other sauces, they overpower your meals — either they have too much vinegar in them, or they're too hot, or they're too spicy, and you taste the hot sauce before you taste your meal," Saavedra said. "I don't like to eat that way. With us, we complement a meal."
For reprint and licensing requests for this article, CLICK HERE.