Into the Metaverse
Monday, November 29, 2021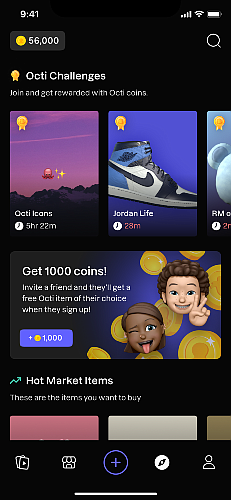 The "metaverse" is currently one of the hottest topics in tech — particularly since social media giant Facebook changed its corporate name to Meta Platforms Inc.
Though the term may be new to many casual internet users, it's a concept that has been generating buzz for some time in the tech world, and West Hollywood-based SuperMediaFuture Corp. is the latest app developer seeking to attract a base of users hungry for immersive and interactive virtual experiences.

The company launched its new app, Octi, Nov. 16 with Chief Executive Justin Fuisz promising in a statement that the social media platform would provide an "antidote to tired social channels" and "the ultimate creative metaverse."

"Metaverse" is a term used by a range of tech companies to describe a version of online interaction in which traditional messages and video chats are supplemented by virtual scenes and images, giving users unprecedented opportunities to customize and transform interactions with others online.

Octi's technology gives users the opportunity to use augmented reality features to create and share short videos and to purchase and exchange virtual goods.
Chief Operating Officer Brian Biggott said the app's algorithm includes features that connect users with others who share common interests and recommends digital goods that can be purchased using virtual currency.

The app rewards users for interacting with others by providing them with virtual coins that can be exchanged for both virtual and physical products offered by brand partners.

"Octi came from our desire to combine all of these amazing augmented reality technologies into an experience that was fun and engaging for users," Biggott said in an email. "Prior to Octi, most of these experiences were brief bits of entertainment that didn't lead anywhere."

As the company has noted, this type of platform gives brands the opportunity to release both virtual and physical versions of certain products. For instance, a user could purchase a pair of virtual shoes that appear on their feet when augmented reality features are activated.

The app also gives users the opportunity to import nonfungible tokens, or NFTs, virtual collectibles that can be put on display for other users to see and investigate.
SuperMediaFuture announced last year that it had raised $12 million in funding from a long list of investors, including Beverly Hills-based Live Nation Entertainment Inc., to develop the social media platform formally launched this month.

The app has quickly gained attention from users. As of Nov. 18, it was one of the top 20 most downloaded apps in Apple Inc.'s iOS app store, according to mobile app data tracker App Annie Inc.
For reprint and licensing requests for this article, CLICK HERE.