Local EV-Makers Unveil New Designs at LA Auto Show
Monday, November 22, 2021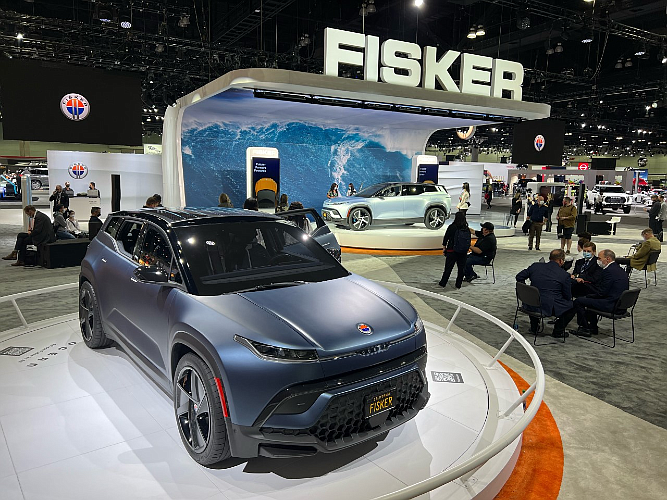 Led by Fisker Inc., local automakers have a strong presence at this year's Los Angeles Auto Show running Nov. 19-28.

As expected, the Manhattan Beach-based electric vehicle designer and distributor unveiled its Ocean SUV at the show, which has returned to the Los Angeles Convention Center after a pandemic-related 24-month hiatus.

Chief Executive Henrik Fisker said it felt "amazing" to be on the stage and introduce the vehicle Nov. 17 to a consortium of journalists and industry professionals.

"When we showed it about almost two years ago at CES, it was quite a different car — we didn't have the technology we wanted," Fisker said. "In the meantime, as we went public last year, we have had enough money that we could go out and really develop the technology or get the technology that we want in the car. So now we're showing a car that actually has longer range than we originally predicted — 350 miles in the top (model), which is the longest of any car, any crossover SUV in the world in this price segment.

"It's exciting to see people get emotional about cars again," he added. "You just can't feel that emotion on a screen. … People had a hard time seeing how big this car is, how does it really feel. … That's why I'm happy the L.A. Auto Show is back."

Another EV-maker launching new vehicles at the show is VinFast, a Playa Vista-based subsidiary of VinFast Trading and Service Co. Ltd., which unveiled two electric SUV models, the VF e35 and VF e36, that will be manufactured in Vietnam and start selling in the United States next fall.

Torrance-based Canoo Inc. was also on hand, showcasing its EV that resembles a Volkswagen bus. A company spokesperson said the company's headquarters will move to Arkansas, which is "a very good strategic location to our own manufacturing in Oklahoma and is close to Dallas, and it has a great pool of talent that we're looking to attract." Canoo's 300-strong workforce in Torrance, which handles research and design, prototyping and facility tooling, will stay put, according to the company.
 
With nearly all automakers showcasing EV models, it only made sense for Sawtelle-based EVgo Inc. to set up a charging stall at the show.

"There are some great electric vehicle models coming to market in 2022, and it's important to show the whole industry, as well as the public that comes to the auto show, that chargers are real, and they are here," said Chief Commercial Officer Jonathan Levy. "We have steel in the ground all across L.A., all across the country — more than 130 million Americans are within a 10-mile drive of an EVgo fast charger."

Other L.A. companies showcasing their offerings include Culver City-based EV startup Biliti Electric Inc., which is planning to go public next year, and Bremach Inc., a downtown-based company that has introduced a low-priced SUV it manufactures in Russia.
 
Mattel Inc. in El Segundo is promoting a release of Barbie's Extra Convertible. The toy company brought in a full-size silver vehicle that was built by Mattel's vehicle team on a Fiat 500e base — and it's electric, of course.  


For reprint and licensing requests for this article, CLICK HERE.