EV-Maker VinFast Moves to Playa Vista, Plans US Expansion
Monday, November 22, 2021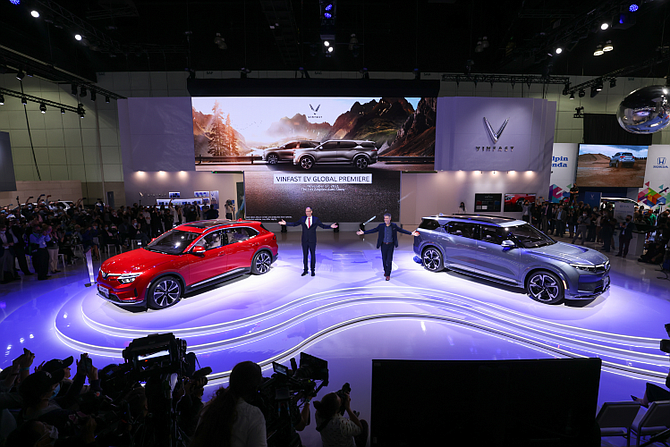 Last week was a busy one for VinFast. The EV-maker, a subsidiary of Vietnam-based VinFast Trading and Service Co., moved into a 15,000-square-foot space in Playa Vista to set up its U.S. headquarters.
 
It also used the opening day of the L.A. Auto Show as the backdrop to unveil its two electric SUV models, the VF e35 and VF e36, which will be manufactured in Vietnam and start selling in the United States next fall. The e36 will be able to travel up to 422 miles per charge while the smaller VF e35 will have a maximum range of 310 miles.

"What we are bringing here to the U.S. are high-quality cars at the reasonable price and outstanding after-sales services," said Chief Executive Van Anh Nguyen.

The company has 60 employees in Playa Vista who will support sales and marketing, distribution, as well as call center and after-sales functions.
 
Like Tesla Inc., VinFast also plans to skip the dealership model by opening about 60 showrooms throughout California next year, mostly at premium shopping centers, to showcase and sell its vehicles.

"We want to control the customer journey and offer the best customer service that we can, so we are doing it ourselves," Nguyen said.

The chief executive moved to the L.A. area in May and has since been busy assembling her team, which includes Chief Service Officer Craig Westbrook, Director of Marketing Gene Lee, Chief Growth Officer Jeremy Snyder and Chief Administrative Officer Karen Moon.

"They have many years of experience in the auto industry and tech industry as well," Nguyen said. "I'm so proud of them, and I think with that team, we can move mountains."

She added that VinFast plans to move manufacturing for domestic market to the United States by the second half of 2024 and has hired a consultant to scope out a suitable location.
 
The decision to set up its U.S. headquarters in Playa Vista was due in part to a $20.5 million tax credit VinFast got from the California Governor's Office. The award was given based on the company's plan for local job creation, among other factors.

"We are committed to investing $200 million in the next four years and creating more than 1,000 jobs." Nguyen said. "We are also committed to creating a culture that is diverse, inclusive and reflective of our customers here in California as well."
For reprint and licensing requests for this article, CLICK HERE.