TrueCar Sales Fall Amid Supply Chain Shortages
Monday, November 15, 2021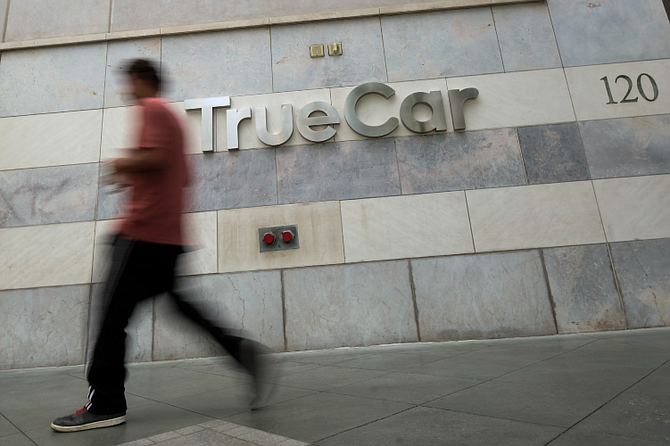 Santa Monica-based automotive technology platform TrueCar Inc.'s sales tumbled as supply chain issues rocked the company, according to its third quarter earnings report.
 
The company reported $55 million in revenue for the quarter ended Sept. 30, down nearly 29% year over year from the $77.2 million it brought in the year before. Its losses a share were 7 cents, compared to earnings of 9 cents a share in the same quarter last year.
 
The company reported a $6.8 million net loss, as compared to net income of $11.6 million in the third quarter of 2020.
 
TrueCar attributed its losses to limits on its inventory of new vehicles, as well as the ongoing global shortage of semiconductors.
 
"This was really driven by the macro, ongoing semiconductor shortage and overall supply chain issues," Jantoon Reigersman,  the company's chief financial officer, said in the earnings call Nov. 4. "It's very much out of our control at this stage. We continued our prudent cost management."

TrueCar's stock dropped 2% in trading Nov. 5, down to $4.01 after opening at $4.10. It closed at $4.06.

Despite steep losses for the period, the company ended the quarter with a healthy balance sheet, holding cash and equivalents of nearly $251 million and no debt.

The company saw 8.3 million unique monthly users of its app and website for the quarter, worked with more than 12,900 dealers and sold 146,000 units, or cars sold to users through TrueCar certified dealers.

Due to "continued uncertainty in the market," Reigersman did not provide any estimates for fourth quarter earnings.
 
"Over the long term, however, we expect conditions and inventories to improve, and the pendulum of the inventory will swing back," he said.
 
Along with its earnings, the company announced it launched the pilot program for its upcoming platform, TrueCar Plus, with select dealers in Florida in September.
TrueCar Plus is an automotive marketplace that connects consumers with dealers to complete a vehicle purchase entirely online. The company aims to formally launch the platform in the first quarter of 2022.
 
"We are investing in the future with TrueCar Plus and positioning ourselves to benefit as more and more of (the) car buying and selling process moves online," Mike Darrow, president and chief executive of the company, said on the earnings call.
 
Amid overall supply chain shortages in the automotive industry, TrueCar anticipates a continued decline in sales. In an Oct. 27 statement, it forecast total new vehicle sales industrywide reaching just over 1 million units in October, down 23% year over year from 1.36 million units in October 2020. 
For reprint and licensing requests for this article, CLICK HERE.