New Metro CEO Wiggins Helms Nation's Largest Rail Construction Program
Monday, November 15, 2021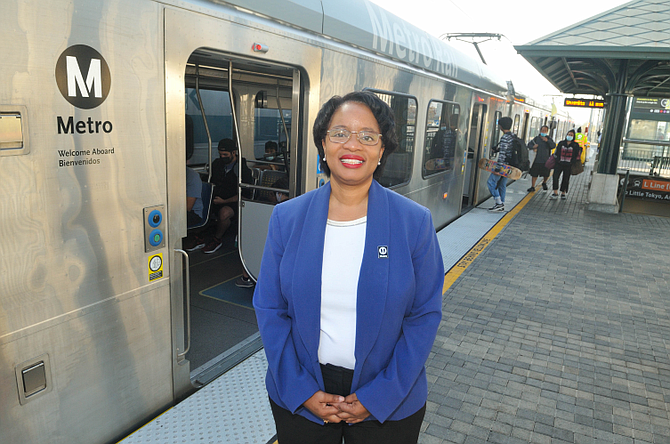 Public transportation veteran Stephanie Wiggins became the first woman and first Black woman to lead the mammoth Los Angeles Metropolitan Transportation Authority in May, succeeding Phillip Washington, the agency's first Black chief executive, who left to lead Denver International Airport.

Wiggins rose through the ranks at Metro to become deputy chief executive before leaving in 2018 to become the first woman and Black chief executive of regional rail network Metrolink, the nation's third-largest passenger rail system with 282 employees and a budget of $793 million.

As Metro chief executive, Wiggins leads an agency with an $8 billion operating budget and 11,000 employees that transports more than half a million passengers daily on a fleet of 2,200 buses and six rail lines. She also oversees the agency's $21 billion capital projects program, including four rail construction projects.

The Business Journal spoke with Wiggins about Metro's massive rail construction program; the interview took place one day before Congress passed President Joe Biden's $1.2 trillion infrastructure plan.

What's been the biggest surprise since you started as Metro's CEO earlier this year? 
Wiggins: During my first 100 days, I conducted listening sessions with employees, vendors and other stakeholders. The biggest surprise has been how resilient our essential workers have been in the face of the pandemic. Some have worked for Metro for up to 50 years.

What are your top goals over the next couple years as you settle into the role of Metro CEO? 
One of my top priorities is fiscal sustainability. The pandemic has been a significant disruptor. Without Covid relief funds, we would be in dire straits. But those relief funds will be exhausted by 2024. So, we're putting together a three-year financial plan to regain financial viability. It also will be a chance to minimize cost overruns on project delivery. Another goal is improving the customer experience. We want to make sure the transit service is safe, clean, frequent and connected.

What do you mean by connected?
Getting people where they want to go. In L.A., one can get to 17 times more destinations by car than by transit, according to a study Metro did last year. That study also highlighted the pain points in the customer experience in getting around our system. We have to be strategic in making sure people are connected wherever they go. We want Metro to be the first choice people think about when moving around town.

Is it fair to say that the largest amount of rail construction in the nation is taking place right here in L.A. County? 
Yes, I absolutely agree it is. We have the most ambitious rail program in the nation because of our voter-approved sales taxes. Most metro areas may have one rail project ongoing — that might be a rail upgrade or an extension of an existing line. We are building four rail lines simultaneously and have another seven projects in various planning stages.

What are your thoughts on how all this rail construction is going to transform L.A., long thought of as the car capital of the world? 
There's a real possibility that we will see this happen, where L.A. is not just perceived as the car capital of the world. Part of this vision is related to the incredible opportunity this region will have in hosting the 2028 Summer Olympic and Paralympic Games. Spectators will not be able to drive to many of the venues; they will have to take transit. Even before then, we have other sporting events that can serve to elevate mass transit culture: the FIFA World Cup, the Super Bowl next winter and the (Major League Baseball) All-Star Game next summer.

How much are all the supply chain and labor shortage issues slowing or delaying Metro's rail construction projects? 
So far, the supply chain issues seem to be isolated. For example, on the Regional Connector project, we have been impacted with our steel supply. Some of the steel for the elevators will not be ready in time for substantial completion. But we're making sure the delivery of steel does not disrupt testing of the system. On a broader scale, we are working closely with our contractors on any supply shortages, developing mitigations and workarounds. Our contractors are also exploring alternate supply chains and sourcing for our materials.

Can you speak to the issues with the contractor — Walsh-Shea Corridor Constructors — on the Crenshaw-LAX line? How far behind is the project and is the contractor any closer to completing the testing and electrical work? 
This job has taken way longer than we would like — it's two years behind schedule. I meet weekly with the principals of the contractor team. We're getting closer to substantial completion. We anticipate this by early next year. We hope the contractor will be able to hand over part of the line to us by end of this calendar year. After substantial completion, we will need up to six months of pre-revenue testing. There's a good chance a year from now it will be open.

What exactly is the Regional Connector project that has had downtown streets torn up for the last several years? How will this project make life easier for commuters?
I understand the challenge of conveying what this project is, since it's not its own line. It connects three regional transit lines. It's going to shorten the overall travel times and (provide) more frequent service, eliminating transfers at Union Station and 7th Street/Metro. Riders will save 20 minutes per trip as a result. It also means that during peak hours, trains will be moving through every 2-3 minutes instead of every 7-8 minutes. It's all about improving the quality of the rider experience.
The Regional Connector will also add
direct access to all the cultural attractions in
downtown.

Now that Congress is on the verge of passing a $1.2 trillion infrastructure bill, what's in it for Metro's rail projects?
It's very exciting for us. The bill will more than double funding for the Capital Investment Grant program that we rely on. It's a competitive bid program, but we think we're in a strong position because one of the criteria is the degree of investment in equity-focused (low-income) communities. We've used this program in the past to help deliver the Purple Line extensions and the Regional Connector. With this additional funding, we think the Sepulveda Transit Corridor, the West Santa Ana Branch project (from Union Station to Artesia) and projects in the eastern San Fernando Valley could all benefit. The other major element is the prospect of Bringing Back America bonds, a tool that we can leverage to deliver these projects.

Ridership on Metro's rail projects was declining even before the pandemic began, and the pandemic only made things worse. Yet Metro is in the midst of the most ambitious rail construction program in its history. How do you reconcile this?
The purpose that we serve at Metro is to improve mobility for everyone in L.A. County. We recognize this ridership issue, and it underscores the need to provide a system that makes sense as a value proposition for riders. We also need to address the gap between access by car and access by transit. And we need to improve the customer experience — that means improving cleanliness, safety and (train) frequency. Also, we want people to understand getting around the system, so it doesn't become like a scavenger hunt.
For reprint and licensing requests for this article, CLICK HERE.