Edison International Ups Liability for 2017-18 Wildfires by $1.3 Billion
Monday, November 15, 2021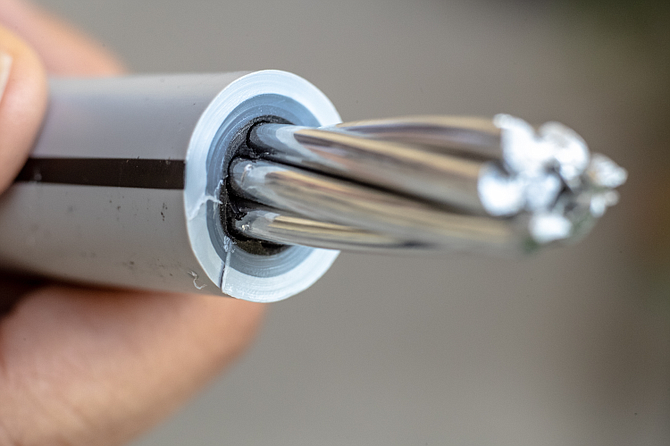 The Thomas and Woolsey wildfires that burned through Southern California within the last four years continue to haunt Rosemead-based Edison International.

In its quarterly earnings announcement earlier this month, Edison increased its estimate of liabilities from the two fires and related events by $1.3 billion to $7.5 billion.
 
That increase follows the October announcement that Edison had reached a $550 million settlement with the enforcement division of the California Public Utilities Commission that included a $110 million fine and giving up the right to charge ratepayers for $375 million in third-party claims. Edison did not admit imprudent behavior regarding its wildfire prevention and control efforts.

All this resulted in Edison recording a $1.2 billion charge for the quarter, which translated into a net loss of $341 million. That's larger than the $288 million net loss for the third quarter of 2020, which itself was the result of another charge for fire-related liabilities.

"The … increase in legacy wildfire loss estimates was the first since last September (2020) and an unwelcome reminder of the outstanding overhang, accompanied by a sizable CPUC settlement," Jonathan Arnold, principal with Stamford, Conn.-based Vertical Research Partners, said in a report he issued after the conference call.
 
The increased estimate for wildfire liabilities came as Edison's public utility subsidiary Southern California Edison continued to work its way through claims from the 2017-18 wildfires.

The December 2017 Thomas Fire, which burned nearly 282,000 acres in Ventura and Santa Barbara counties, destroyed 1,063 structures.

Six weeks later, in January 2018, after an intense downpour, mudslides started on slopes burned by the Thomas Fire; as the slides roared into the Montecito community in Santa Barbara County, they damaged or destroyed more than 400 homes and killed 23 people.

Southern California Edison's own internal investigation and the Ventura County Fire Department both determined that SCE's equipment likely sparked one of two ignition points for the Thomas Fire, on Koenigstein Road east of Ojai.

Then in November 2018, the Woolsey Fire burned nearly 97,000 acres in Los Angeles and Ventura counties, destroying 1,643 structures. Investigations by the California Public Utilities Commission and the Ventura County Fire Department pointed to Southern California Edison equipment having a role in triggering that fire.

In its third-quarter earnings conferece call with analysts, Edison Chief Executive Pedro Pizarro said the company has settled about 70% of its estimated exposure to claims arising from these fires and related events; in the third quarter alone, the company agreed to pay $485 million to settle claims.

"The more claims we go through, the more settlements we do, the more we learn," Pizarro told analysts concerned about the lingering uncertainty over Edison's total liability for the claims. "And I would hope that (the) uncertainty band continues to narrow. … We have been testing quarterly to see whether there are new pieces of information, more detail in terms of specific claims that are waiting down the pipe."

Seeking resolution
But analyst Arnold, who was on that conference call, said in a subsequent report that Edison's progress on resolving claims appears to have taken a step backward.

"The unresolved portion is now $2.2 billion (29%) versus $1.4 billion (23%) in June, so this was both a dollar increase and a setback in terms of the percentage of claims resolved," he said.

In a subsequent interview with the Business Journal, Arnold said the question remains of how long it will take Edison to resolve all the claims and thereby remove a significant overhang of uncertainty that has loomed over the company since the fires.

"How many quarters might it take to complete?" Arnold said. "It could take a year or more until all or virtually all claims are resolved."

Then there is the issue of who will ultimately pay for the claims: Southern California Edison ratepayers or Edison International shareholders. And this is where the settlement with the Public Utilities Commission comes in. As part of that settlement, Edison agreed not to seek reimbursement from ratepayers for $375 million of the wildfire claims.

Another analyst said determining whether ratepayers or shareholders should pay for the claims could take even longer. Shahriar Pourreza, analyst with New York-based Guggenheim Partners, said in his report on Edison that it took nearly a decade to determine this issue in a case involving San Diego-based Sempra Energy and wildfires in northern San Diego County in 2007.

Pourreza said that until this issue is resolved, he is basing his valuation of the company on the assumption that shareholders will pick up the tab for claim payouts that exceed Edison's insurance coverage.
 
One bit of reassurance for investors, though: Edison isn't accruing significant liability for wildfires that have occurred since late 2019. That's when state legislation went into effect that set up a wildfire insurance fund for the state's three investor-owned utilities: Southern California Edison, Sempra Energy's San Diego Gas & Electric and San Francisco-based PG&E Corp.'s Pacific Gas and Electric utility subsidiary. The fund is intended to reach $21 billion, with shareholders from the three utilities putting in half and utility ratepayers putting in the other half. The fund is now being used to pay out damage claims from fires that are found to be caused entirely or in part by equipment owned and operated by the utilities.


Transmission wire upgrades
In its earnings release, Edison also updated its progress installing insulation cover material on its transmission wires to reduce the risk of the lines sparking in windy conditions. Pizarro said the utility has covered roughly 2,500 miles worth of transmission lines, which equates to about 25% of its overhead distribution power lines in high fire risk areas.
 
The company said this step, in conjunction with power shutoffs during red flag fire alert conditions and other measures, has reduced the probability of losses from catastrophic wildfires by 55% to 65% relative to pre-2018 levels.

In pursuing this "covered conductor" wires strategy, Edison has chosen a different course from PG&E, which announced in July it will underground roughly 10,000 miles of transmission wires. Undergrounding wires costs up to $5 million per mile, according to a study from the Edison Electric Institute. That's about 10 times the per-mile cost of Edison's covered conductor program as stipulated in its recent rate case before the California Public Utilities Commission.

Analyst Arnold said the covered conductor approach will not work well in PG&E territory, where the risk of trees or tree limbs falling onto power lines is much higher than in Southern California. Covered conductor lines will snap just as easily as bare conductor lines when heavy tree limbs fall on them, he said.

Edison's covered conductor program could soon receive a long-awaited boost from the recently passed $1.2 trillion federal infrastructure bill, which allocates $10.5 billion nationwide to harden and upgrade transmission lines.

Arnold said if Edison receives some of this federal money, it will likely be used to stretch the program to cover more transmission lines. "Insulating more wires is still a win for everybody: It reduces the risk of fire ignition," he said.
For reprint and licensing requests for this article, CLICK HERE.