Afterparty Combines Crypto With Creators
Monday, November 15, 2021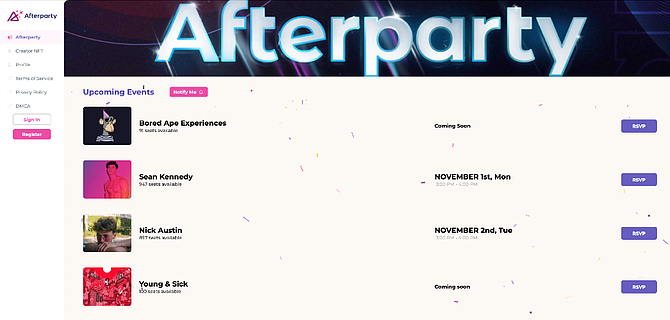 David Fields has spent his whole career at the intersection of technology and the creator economy, working with companies like Walt Disney Co. and Tornante Co. On the side, he developed a love for cryptocurrency and a fascination with blockchain technology over the past five years.
 
Wanting to bring his two passions together, Fields, Dan Rahmel and Eytan Elbaz founded Afterparty Inc., a nonfungible token marketplace and events company.
 
Founded in April, Afterparty hosts virtual events for creators and artists, using NFTs for ticketing and merchandising. The company's platform enables creators to monetize and manage their NFTs.
 
The company's mission is to give creators the tools to make a living from their fan bases using NFTs.

"What we set out to do is … help creators effectively use NFTs and really deliver value and utility to their biggest fans," said Fields, who serves as the company's chief executive. "NFTs are a super fan technology that enables creators to have a much deeper, direct connection with their biggest supporters."
 
Afterparty has gained major traction in its six months of operation. It has partnered with creators such as TikTok stars Bryce Hall and Nick Austin for virtual events, Fields said.
 
The company has also found success with investors, closing its first seed funding round of $3 million, it announced Nov. 3. The round was led by San Francisco-based Acrew Capital and Windsor Square-based TenOneTen Ventures with participation from Palm Tree Crew Investments, Santa Monica-based Act One Ventures, Hex Capital, Red Light Management and several angel investors.
 
"Acrew's same guiding principle represents the very essence of the new creator economy," Lauren Kolodny, founding partner at Acrew Capital, said in a statement. "Afterparty is undoubtedly at the forefront of this new creator era, which makes their platform and team an exceptional investment fit."

The company plans to use the funding to build out its digital events platform and add more creator tools, Fields said. It will also launch an "Afterparty house" in the Hollywood Hills in mid-November that will host creator events "gated by NFT access," he said.
 
"We want to keep building more value for creators and help them connect more deeply with their fans while also making a sustainable living," Fields said.
 
Afterparty is making headway in two booming industries: the creator economy and NFTs. In the third quarter, NFT sales surged to $10.7 billion, according to data from market tracker DappRadar. And according to trade publication Influencer Marketing Hub, the creator economy has a market size of around $104.2 billion.
For reprint and licensing requests for this article, CLICK HERE.