Skechers Reports Record-Breaking Sales, $1.6B Revenue in Third Quarter
Monday, November 8, 2021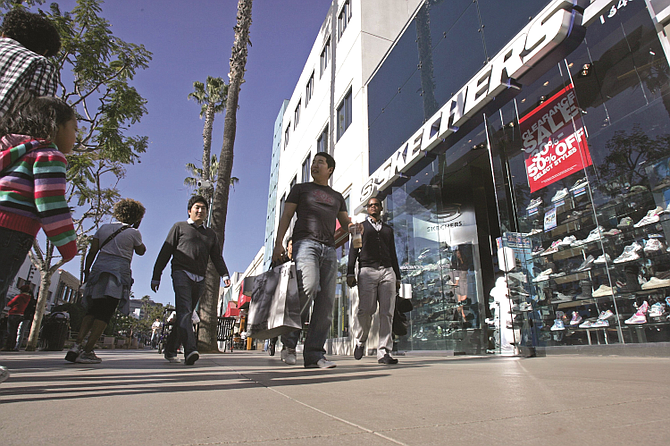 Skechers USA Inc.'s third-quarter sales — although record-breaking — might have been even better if some of its merchandise wasn't stuck on container ships.
 
The Manhattan Beach-based footwear and apparel brand reported contending with $218 million in in-transit inventory, a year-over-year increase of more than 140%.
"Under normal conditions, we believe, a meaningful portion of that inventory would have been delivered to customers in the third quarter," Chief Financial Officer John Vandemore told analysts on an Oct. 28 earnings call.

Skechers posted $103.1 million, or 66 cents a share in net income, a 60.3% jump from the year-ago quarter. The company's net revenue totaled $1.6 billion, representing a 19.2% year-over-year increase and a third quarter sales record. The results were 5 cents below Wall Street expectations on net income per share and $72 million on revenue.

Skechers' domestic wholesale was up 10.1% to $350.7 million during the third quarter ending Sept. 30 while international wholesale grew 10.6% to $711.9 million. Direct-to-consumer revenue — derived from some 4,170 stores and ecommerce — increased 44.1% to $488.4 million.
 
"Worldwide, comparable same-store sales increased 31%, including 34% domestically and 25% internationally," said Skechers' Chief Operating Officer David Weinberg. "Importantly, unit volume improved 17% with an average selling price per unit increase of 23%."

The results were "reflective of our less promotional stance, the success of our comfort technology product, and a return to a more normal lifestyle and shopping behavior," he added. "The increase in our domestic direct-to-consumer business was driven by a 43% gain in our brick-and-mortar stores."
 
Domestic ecommerce, which was particularly impacted by limited product availability in the quarter, according to Weinberg, increased 3% year over year but was up 180% over the same period in 2019.
 
For the entire fiscal 2021, Skechers anticipates sales in the range of $6.15 billion to $6.2 billion and earnings per share of between $2.45 and $2.50. Its fourth-quarter sales will likely be between $1.51 billion and $1.56 billion.

"The big question mark is how quickly the domestic port congestion can remedy itself because … in our business, there is certainly no lack of demand for the brand, for the product, for the technology we're bringing — it's really a challenge with getting the supply chain to operating as efficiently as would normally be the case," Vandemore said.

When it comes to the long-term outlook, Skechers is still on track to reach $10 billion in annual revenue in the next five years.
 
"You put together kind of a mid-teens growth rate in the international wholesale side of things," he said. "You put together a slightly higher direct-to-consumer growth rate, because you have both, the stores, the international markets and ecommerce, which we put a lot of investment behind. And then we think it's reasonable to expect the domestic wholesale marketplace to at least put up a mid-single-digit growth rate."
For reprint and licensing requests for this article, CLICK HERE.