AAA Flag & Banner Manufacturing Launches Division Focused on Custom Visual Experiences
Monday, November 8, 2021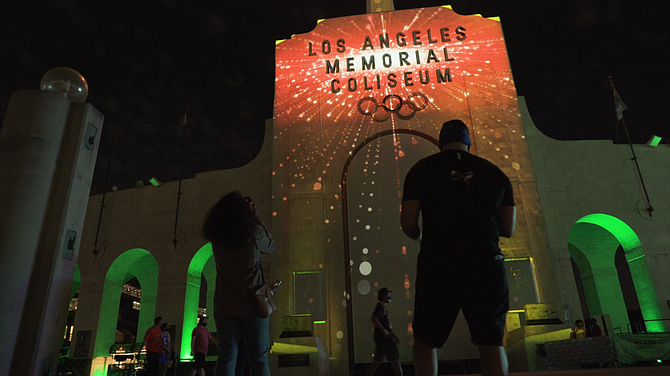 AAA Flag & Banner Manufacturing, a Mid-City-based maker of signs installed at major sporting and entertainment events, has consolidated its experiential and digital services into a new division — A3 Visual.
 
The launch of A3 Visual will "further enhance AAA Flag's ability to create visually memorable events and experiences for their customers," according to the company. The division offers projection and video mapping, audio, video and lighting technology, digital content creation, and custom experiential activations.

"For 50 years, AAA Flag has grown and evolved with the events industry, giving us unique insight into the latest trends and interactive experiences desired by audiences," Chief Executive Craig Furst said in a statement. "We believe the convergence of digital technology and print is the future, and through A3 Visual, we're invested heavily in the equipment and knowledge to make this happen. We will continue to expand our offerings and deliver the innovative visual solutions our customers demand."

AAA Flag & Banner employs about 200 workers; has offices in Houston, Miami and San Francisco; and its annual revenue is in the "mid-eight figures" according to Furst. It designs, prints and installs large-format vinyl or fabric graphics and signs for outdoor advertising, sports, retail, entertainment and corporate events.
 
A3 Visual, meanwhile, uses visual projection equipment to "map anything from sculptures and stages to massive buildings," according to the company. Its past projects and clients have included the San Francisco Ballet Gala, Cisco Hackathon, Twitch Arena E3, San Francisco MOMA projection for Mastercard International Inc., Evernote EC4 conference, Upwork Global Inc., PlayStation and Lucasfilm.

"Digital technology has the power to transform the event production industry," A3 Visual's Chief Technology Officer Sean Mason said in a statement. "We have the technology and expertise to create truly dynamic environments that drive brands forward and deliver a deeply engaging experience for fans and crowds. We're excited about working with AAA Flag & Banner."
For reprint and licensing requests for this article, CLICK HERE.