Office Furniture Supplier Aims for Record Year Despite Shipping Delays
Monday, November 1, 2021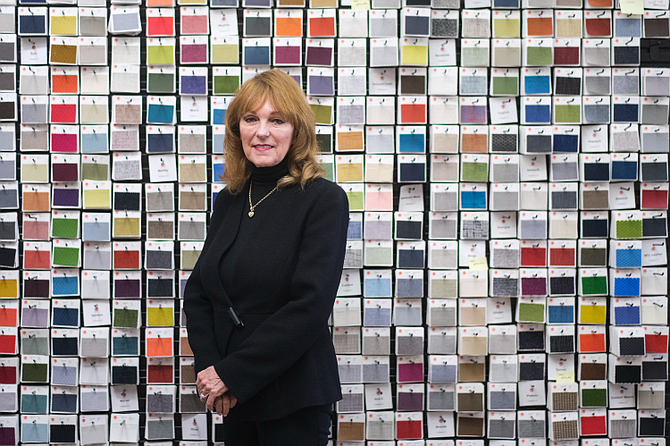 Dannine Sheridan is among the many people watching cargo ships idling at the entrance of the port complex these days and wondering which one is carrying that order placed so many weeks ago. In Sheridan's case, she's waiting for dozens of couches, chairs and desks, all destined for her clients' offices.

Prior to the pandemic, it would take her staff at Sheridan Group about 12 to 14 weeks to get the product shipped from overseas factories, but nowadays, they tack on another 10 weeks to the delivery timeline.

"Even here in the States, the major manufacturers that we work with had a four- to six-week time frame, and now it could be 18 weeks just because they're not getting the parts from overseas that they need — it's that whole ripple effect," she said. "We've been really proactive in trying to make sure that our clients are ordering products that they can get when they need them to move in on time, which is critical," she added.

The logistics storm is one of many which Sheridan had to tackle since founding the Sawtelle-based commercial furniture distribution company in 1984.
"I have been working in the industry, and I just wanted to start a company that was a little bit different than other furniture dealers that we have around," she said. "We don't have salespeople … so we get business by referrals and by doing a good job."

She credits prioritizing customer care, low staff turnover and repeat business as keys to her company's success — Sheridan Group ended 2020 with $46 million in revenue, a 2% dip from the company's 2019 sales.
Sheridan said that while it's impossible to predict the company's sales for 2021, she feels confident revenue will be better than the last two years.

One of her first clients was downtown-based Herbalife Nutrition Ltd., an account her company still services.
"Whenever they bring on a design firm, they have us work with them," Sheridan said. "And then, many other times, if there's a design firm involved, for instance, like on our NFL (project), Gensler brought us in."

She was referring to the National Football League's West Coast offices in Inglewood where Sheridan Group worked with architectural firm Gensler's L.A.-based group to design and furnish about 250,000 square feet of space across from SoFi Stadium.

"Dannine's the bread and the butter," said Chris Mitchell, a design director at Gensler, whose group was assigned to the NFL project. "She's the hands-on person that's going to make sure that you get what you need when you need it. And during this period of Covid, that just becomes so critical."

Sheridan also gets work from clients' project managers as she did to source furniture for Spotify's At Mateo office.
"It's different for each job, but it's usually because we've done a good job with other people, and they recommend us," she said.

Sheridan Group has offices in Calabasas and La Palma, and its installation and warehousing operations are in Commerce. The firm employs 80 people and has a high retention rate. Its legacy employees include Senior Vice President Terri Bianco — Sheridan's first hire — Controller Rose Bravo, as well as Chief Information Officer Scott Cooper, who joined the company in 1990.

"I'm very fortunate with the people that we have on our management team," Sheridan said. "We've all grown up together. We've seen each other have children and watched them grow up. It's not a corporation; it's a family."
For reprint and licensing requests for this article, CLICK HERE.