Brand Agency's Tailored Approach Is Paying Off
Monday, November 1, 2021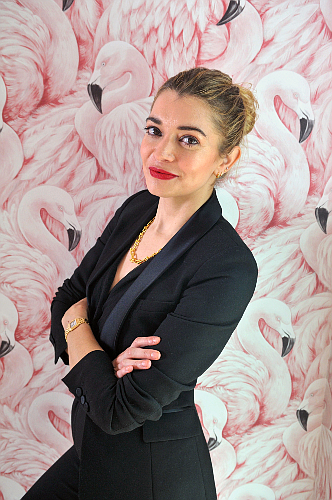 Public relations firm Brand Agency isn't yet a household name, but with a client list that includes Amazon Studios, CoverGirl and Guess Inc., 36-year-old founder and Chief Executive Priscila Martinez is working to change that.

Martinez launched the West Hollywood-based company in 2015 with just two monthly retainer accounts, and as of October, has expanded its umbrella to include 21 clients and two other businesses: 1795 Communications, which focuses on the cannabis industry, and Vicaria Multicultural Agency, which facilitates marketing and communications opportunities between multicultural clients and general market media.
 
Brand Agency's revenues have steadily grown by more than 50% year to year since 2019, and it has generated more than $5.2 million in 2021 to date.
 
Martinez is the American-born daughter of Mexican immigrants and grew up on the border of Mexico and California, where her parents had homes in Mexicali, Baja California and Calexico, on the U.S. side of the border. While attending Pepperdine University to earn a degree in business administration, she lived with a student who worked in public relations and got her first taste of the industry.
 
"I could not fathom why her life was that much better, and I was reading from spreadsheets," Martinez told the Business Journal. "That's what propelled me to find a career that I thought was a little bit more fun and glamorous — and PR tends to do that."

Martinez spent almost nine years at I/D Public Relations Inc. where she soon learned about the behind-the-scenes labor that went into making clients look their best.
"Little do you know that there's times that you're going to be at the Four Seasons, on the floor of a suite stuffing gift bags at 2 in the morning," she said.
 
After developing an aptitude for storytelling focused around brands instead of individuals, Martinez decided to break out on her own, bringing Guess with her as one of the company's first two clients. She launched her company as Brand Agency because she doesn't like the branding trend of agencies being named after individuals.
 
"I think the humbleness aspect is something that's very prominent in Mexican culture," Martinez said. "It's like, put your head down, don't talk and just power through it, and your good work is going to show."

Over the past six years, the minority-certified company's all-women staff has grown to 18, working remotely in New York, Nevada and Florida in addition to its offices in West Hollywood and Burbank. In all those locations, Martinez said, its approach to client services is different from most firms in that instead of creating teams whose members each focus on one aspect of a larger campaign, agents specialize in different industries and then coordinate the campaign as a whole.
 
She has also attempted to cultivate a healthier intracompany atmosphere that she said has produced two results: booming business and happy clients.
"The public relations industry is catty and clique-y, and being a part of that machine for such a long time, I realized that's not the culture that I wanted to cultivate," she said.

After 15 years in the industry, Martinez acknowledged she has sometimes encountered clients who were surprised by her capabilities because of her age, gender or ethnicity, but she said her guiding principle at Brand Agency is to deliver work that speaks for itself. For the occasions when she's unsure if it does, however, Martinez said she turns to her family to gauge how she and her team are doing.

"My mom has nothing to do with entertainment, nothing to do with public relations," she said. "So, if she gets what I'm talking about, then we're in a good place."
For reprint and licensing requests for this article, CLICK HERE.