US Bank Tower to Undergo $60 Million in Upgrades
Monday, May 31, 2021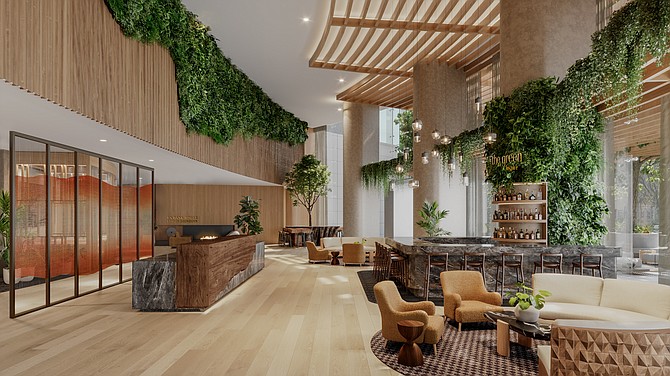 New York-based Silverstein Properties, which purchased the U.S. Bank Tower for $430 million last year, has announced plans for a $60 million upgrade to the iconic skyscraper.

Renovations for the downtown skyscraper will include a redesign of the building's main entrance and lobby.
 
New amenities will include a day-to-night juice and cocktail bar, a grab-and-go market, seating, and collaboration areas.

Silverstein is also building an "amenity destination" on the 54th floor, known as The Vista. Once complete, The Vista will feature panoramic views, food and beverage options, a coworking lounge, as well as an event space.
 
Silverstein also plans to remove the Sky-slide, a 45-foot-long glass enclosure that opened in 2016 and allowed visitors to slide from the 70th floor to the 69th floor on the outside of the building.

In addition, the company plans to modernize U.S. Bank Tower's elevators.

"Once completed, U.S. Bank Tower will sport a look and feel more in line with the world's leading boutique hotels," Jeremy Moss, executive vice president of leasing at Silverstein Properties, said in a statement. "Informed by hospitality design, our repositioning plans will transform all aspects of the building to create a workplace environment that meets the evolving needs of the modern workforce."

Architecture firm A&I and design firm Jeffrey Beers International are behind the revamp.

"A hospitality-driven design and food and beverage programming will create an inviting and energetic atmosphere, which will encourage employees and colleagues to meet, discuss ideas, and to creatively collaborate," Jeffrey Beers, founder and chief executive of Jeffrey Beers International, said in a statement.
 
"Bringing our 35-plus years of hospitality design knowledge and experience to the new, hip-urban-boutique hotel feel and look to the U.S. Bank Tower is truly a wonderful opportunity," he added.
 
The upgrades are expected to start this summer and be completed by the end of 2022.

The U.S Bank Tower is Silverstein's first asset in Los Angeles.
 
Known for its trophy properties, including 2, 3, 4 and 7 World Trade Center in New York City, the company has a portfolio of more than 40 million square feet. It has been expanding into other cities.

"I love Los Angeles. This city is a global destination that continues to attract some of the country's leading businesses," Lisa Silverstein, vice chairman of Silverstein Properties, said in a statement. "I also believe in the future of downtown L.A. as a major creative and business hub. I have no doubt that once the pandemic is behind us, we will see the return of dynamic job growth, millennial and Gen Z population growth, and residential migration into downtown."
For reprint and licensing requests for this article, CLICK HERE.