Domestic Traffic at LAX Rebounds in April
Tuesday, May 25, 2021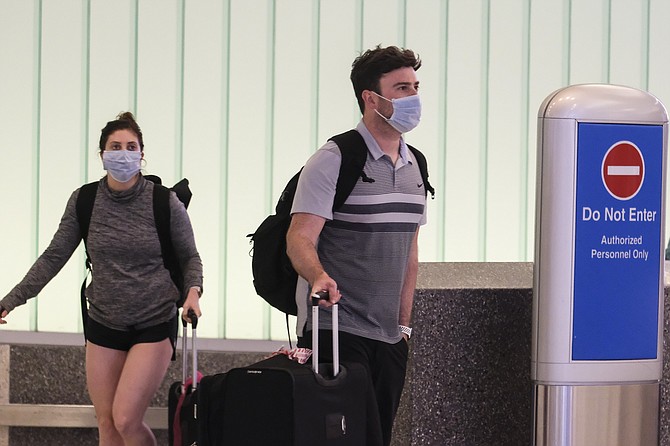 Domestic passenger traffic has rebounded to just over half of pre-pandemic levels at LAX but international travel is still suffering, according to figures released May 25 by Los Angeles World Airports.

Data from the city agency that runs Los Angeles International Airport shows that overall passenger traffic was down 57% in April to 3.07 million compared to pre-pandemic levels in April 2019.

Domestic traffic fell 49% in April to 2.65 million passengers from April 2019, marking the first time since the pandemic began that domestic traffic exceeded half of the pre-pandemic level.

But international traffic remained depressed, down 80% in April to 424,000 from April 2019. Numerous international travel restrictions to control the spread of the coronavirus remain in effect for both U.S. passengers to other countries and international passengers to this country.

Because the sudden drop in air passenger was so extreme with the spring 2020 lockdown of global air travel, the Business Journal compared April 2021 figures to April 2019.

In April 2020, a mere 300,000 passengers went through the gates at LAX, down 96% from the same month in 2019 and the lowest monthly total of passengers at LAX since 1955, at the dawn of the age of widespread jet travel. 
Using that level as a base, April 2021 passenger traffic was up 927% year-over-year, with domestic travel up 1,003% and international travel up 617%.

Meanwhile, air cargo tonnage at LAX continued to boom in April, up significantly from pre-pandemic levels. The 251,000 tons of air cargo flowing through LAX last month was up 32% from April 2019 and was up 42% from April of last year.

Since the pandemic began, LAX has been a hub for the import of personal protective equipment and, more recently, the distribution of vaccines.

While air cargo tonnage has been robust, it did fall about 5% from March. Some of that drop may be due to April being one day shorter than March.
For reprint and licensing requests for this article, CLICK HERE.