Bars, Venues Continue Slow Approach to Reopening
Monday, May 24, 2021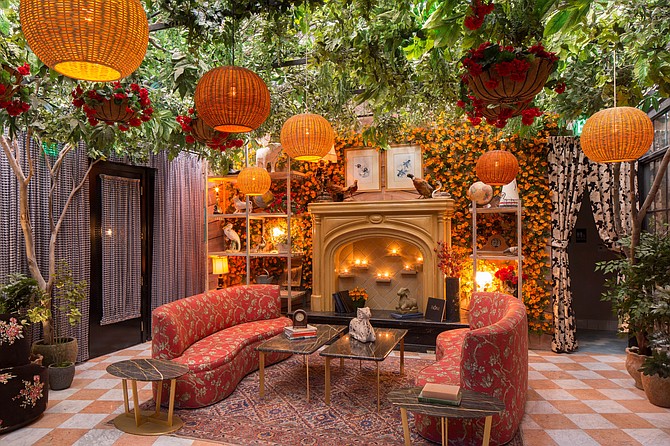 While Los Angeles County is officially in the yellow tier of the state's pandemic reopening plan, the timetable for a return to normal is still uncertain for entertainment and nightlife venues.

Bars, restaurants and indoor and outdoor venues continue to take a slow approach toward welcoming back customers even though restrictions have eased.
 
Until the economy fully reopens — which could come as soon as June 15 — some small-business owners say they remain hamstrung by the state's capacity limits.
 
"I know technically we're allowed to reopen, but the restrictions are so restrictive that opening would mean we just lose money," said Adam Noble, co-owner of Carbon, a lounge in downtown Culver City that remains closed.  

Some larger venues, however, have adapted relatively quickly.

The Los Angeles Football Club, which plays at Banc of California Stadium in Exposition Park, is taking full advantage of yellow tier rules that went into effect May 6.
 
For an LAFC game on May 22, the club designated 50% of the stadium as vaccinated-only space and expected to fill up to 67% capacity.

"By expanding vaccinated-only areas of the stadium, we are able to provide the increased access that we know our fans are looking for, in accordance with the current state and L.A. County guidelines," Larry Freedman, LAFC's co-president and chief business officer, said in a statement.

Banc of California Stadium isn't the only large venue adjusting to the new rules. Staples Center upped its capacity to 50% from about 10% when it reopened in mid-April.
 
Fans who aren't fully vaccinated, however, must sit in socially distanced pods. And masks are still required for everyone. Eating and drinking is banned in seated areas.

At the Los Angeles Lakers' first playoff game on May 19, the team had 6,002 fans, 32% of capacity at Staples for a basketball game. That compared to 1,915 people at the team's first game with fans on April 15.

Dodger Stadium, which reopened to fans on April 9, added a vaccine-only section that does not require social distancing for 500 fans on April 24. The team doubled the size of the section on May 11. But the stadium remains at 33% capacity despite being permitted to go up to 67% capacity, according to the Los Angeles Times.
 
The nonprofit Los Angeles Philharmonic Association, which operates the Hollywood Bowl, Walt Disney Concert Hall and the Ford Theatre, on May 15 began a series of free concerts for frontline workers at the Bowl.
 
The Hollywood Bowl will be a "majority vaccinated venue," according to its website, with two sections available for nonvaccinated audience members who test negative for Covid-19 72 hours prior to shows.
 
Both the Bowl and the Ford will operate at 67% capacity, which translates into about 11,000 guests each night for the Bowl and 840 fans at the Ford.
 
The Bowl's concert season kicks off in July, and the Ford's season will be announced May 26.
 
Walt Disney Concert Hall will remain closed until fall.
 
"The safety of our audience, musicians and staff are a top priority for us, and we will do all that we can to ensure it," an L.A. Phil representative said in an email. 

Indoor shows still on hold

It's still too early to catch a concert at some of L.A.'s most iconic indoor hotspots.
Live Nation Entertainment Inc. has not commented on plans to reopen its venues, which include the Hollywood Palladium, the Belasco and the Wiltern. All three locations remain closed with no shows scheduled until July 30.

Under the yellow tier, the state also boosted capacity limits for restaurants, with indoor dining room capacity now at 50%, or 100 people, whichever is less. Bars that don't serve food were allowed to reopen for the first time since June at a capacity of 25% or 100 people, whichever is less.

Indoor live entertainment venues can now have a capacity of 67% if all audience members are vaccinated or test negative for Covid-19, and outdoor entertainment venues can have a capacity of 67% without those restrictions.
 
Family entertainment centers, such as bowling alleys and museums, can operate at 50% capacity.
 
The nightlife industry at large was battered by the pandemic.
 
According to Washington, D.C.-based national trade organization American Nightlife Association, nationwide sales at food and drink establishments hit a 17-year low in April 2020 at around $29.9 billion.

The move into the yellow tier allowed H.wood Group, a West Hollywood-based nightlife hospitality company, to reopen eight of its 11 L.A. properties, including 40 Love and The Nice Guy in Beverly Grove, Boosty Bellows in West Hollywood, and Santolina in Beverly Hills.
 
The company's Peppermint Club in West Hollywood, Poppy in Beverly Grove and Shorebar in Santa Monica are closed for now, but John Terzian, H.wood co-founder and co-president said the company plans to reopen Poppy and Shorebar in the coming weeks.

"They have no outdoor (space). They are strictly bars, there's no dining, and they're a little too challenging to have the proper distance and tables," Terzian said. "We're just waiting on those."

Palms-based nightlife hospitality company 1933 Group is operating at a similar pace, said Partner Dimitri Komarov.
 
The company has reopened seven of its 10 properties — it owns eight bars, a café and a bowling alley — and two more locations are expected to open in the next few weeks.
 
Though he's happy the bars are reopening, Komarov said capacity restrictions make the experience far from normal.

"We're obviously working with very restricted hours still because of the capacity, and for that, and since there's no drinking at the bar, it's not as fun being a bar as it normally is," he said.

Unworkable options

Noble, the co-owner of Culver City's Carbon, agrees.
 
The club has been open at the corner of Venice Boulevard and S. Canfield Avenue since 2002, and on a typical weekend night before the pandemic, the dark and cozy venue would be packed with people as a live DJ spun in the background.
 
Noble said he attempted an outdoor Cinco de Mayo event, partnering with a taco truck, but barely broke even. He also said that with capacity limits, the size of his space makes reopening at the moment unworkable financially.
 
"Anything I can do to actually generate business seems to be off the table right now," Noble said.
 
If the state fully reopens June 15, Komarov said he hopes to swing open the doors at all 1933 Group properties. He's also planning a summer debut of a fast-food stand at the old Tail o' the Pup, which 1933 Group acquired.

"As long as the state allows and follows through on their promise that by June 15 the economy will reopen, then I think we're probably poised for a decent summer," Komarov said.

But a lot of questions remain about what will actually happen on June 15, and Noble is still worried about the future.
 
"I'm hoping people will come streaming back," he said. "We're all running on fumes at this point. If we don't get reopened and reopened in a regular way … we may very well just die."

For reprint and licensing requests for this article, CLICK HERE.