LA Travel Companies Are Bouncing Back
Monday, May 17, 2021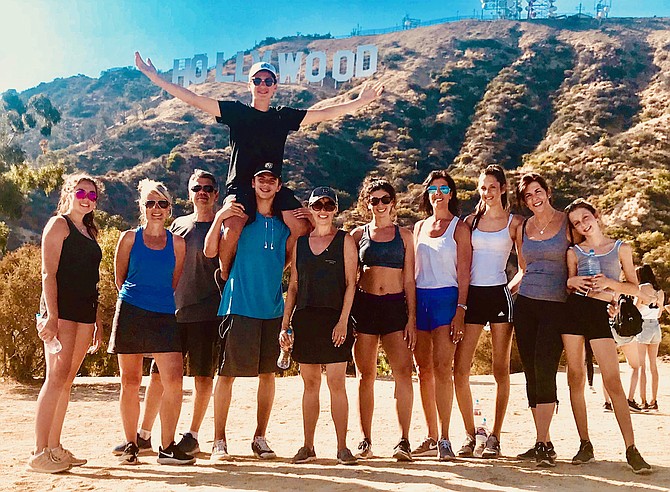 Last summer, Adam Duford, owner of Santa Monica based-Surf City Tours, struggled to book just a few passengers for his driving tours of Los Angeles.
 
Now his open-air van is cruising the Hollywood sights and Malibu beaches with about 13 people on board, twice a day.

It's a far cry from the three vehicles full of passengers that would go on tours twice a day prior to the pandemic, but Duford said it's a major — and welcomed —improvement.
 
"One indicator that's interesting and good to see, it's almost like an indicator of confidence in the future, is that they're booking in advance," Duford said. "We're getting bookings for August and December right now."
 
Surf City Tours isn't the only travel-related company that's seeing a pickup in activity. Across L.A., company owners of travel and tourism businesses that slogged through the pandemic are reporting an uptick as both locals and visitors venture out of their homes.
 
After more than a year of cance
led vacations, closed attractions and halted events, there are signs of a comeback in L.A., according to Adam Burke, chief executive of the Los Angeles Tourism and Convention Board.

Hotel occupancy rates in Los Angeles County increased from 43% in January to 63% in April, Burke said. And traffic at airports serving L.A. County is up as well, with 3.1 million passengers arriving in March, a 65% increase from February.

"There's no question that we're seeing the beginnings of a very sustainable recovery," Burke said.

Doane Liu, executive director of the city of L.A.'s Department of Convention and Tourism Development, also expressed optimism about the months to come.
 
"Now that vaccines are up, and the Covid numbers are going down, I think there's a little more consumer confidence and travel confidence that it's safe to get on a plane," he said.

Plus, Liu said, Gov. Gavin Newsom's target date of June 15 for fully reopening the California economy is a "light at the end of the tunnel."

High stakes

In 2019, 51 million people visited L.A. County, generating approximately $25 billion in revenue for businesses in the county, Burke said. In 2020, the number of visitors plummeted to 27 million while tourism revenue plunged to $10 billion, he said.

Of the 545,000 people employed in Los Angeles' travel and tourism industries in 2020, Burke said one in every three lost their jobs. The sector accounted for 43% of pandemic-related job losses in L.A. County.
 
"It's impossible to overstate both how critical of a driver to our local economy travel and tourism is, and beyond that, how devastating the impact was on our community last year," Burke said.
 
But with 34.8% of the U.S. population fully vaccinated against Covid-19, Burke said he expects better numbers this year and especially this summer.

Around 76% of Americans have plans to travel in the next 90 days, according to a study on consumer sentiment by San Francisco-based travel research firm Destination Analysts Inc.
 
Around 87% of Americans polled have plans to vacation this summer, and travel readiness hit 77% at the beginning of May, the firm reported.
 
"We are now seeing a record level of travelers who say they are ready to get back on the road," Burke said. "Consumer sentiment is one of the key metrics we look at in terms of when we promote the destination." 

Feeling hopeful

On The Map Travel, a luxury travel agency based in West Hills, is starting to benefit from the pent-up demand.
 
Partner Audrey Kennedy said she spent months canceling bookings for her clients when the pandemic hit last March. But in the past two months, her clients have come to her to book domestic travel.

When their clients started to return, Kennedy and her business partner put together a list of U.S.-based short-term rental properties they deemed "Covid-friendly," including vacation rentals in Palm Springs. They sought out rentals without hallways and elevators that give travelers direct, open-air access to their rooms,
 
"People were just desperate to get out of the four walls and go somewhere," Kennedy said.
 
In the first few weeks of the pandemic shutdown, Danny Roman, chief executive of West Hollywood-based Bikes and Hikes, said he received 300 emails a day asking for refunds.

Roman kept the business afloat by selling the bikes that he had rented out for tours until he was able to resume tours in March, thanks largely to visitors taking spring break vacations.
 
But the company's numbers are still down. Prior to the pandemic, Bikes and Hikes would book tours for around 100 customers a day. Now it's running tours for 20 to 30 people.

"We're hopeful that it's just going to get better and better unless something else happens, like if cases go up or there's a new strain," said Roman. "Typically, our summer months are our busiest months."
 
The reopening of local attractions could give the city's visitor numbers a much-needed bump. Popular tourist draws like Universal Studios Hollywood and the Staples Center have reopened after more than 13 months. And the state ok'd the entry of fully vaccinated non-California residents to theme parks in late April.

The Los Angeles Convention Center's first in-person event will be the L.A. Art Show, which is planned for the end of July and draws around 70,000 visitors in a normal year, Liu said.

"We've had a long time to prepare," Liu said. "Part of the messaging that's going out from L.A. Tourism and from our elected officials is that it's safe. We spent the last year making sure that we were able to welcome you, and that it's going to be clean, safe, and healthy for you to come back to Los Angeles." 
For reprint and licensing requests for this article, CLICK HERE.