Arcturus Studios' Software Powers Holographic Videos
Monday, May 17, 2021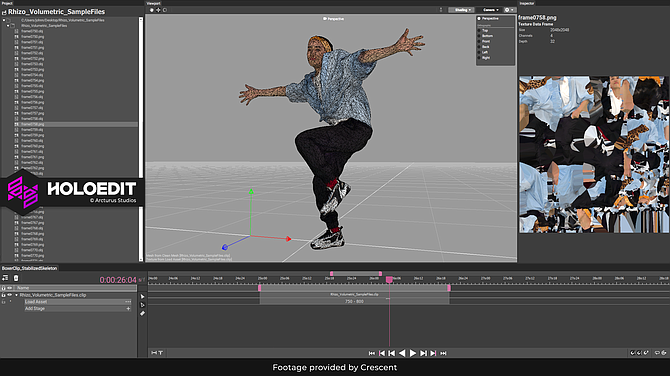 Augmented reality and holographic technology exist largely as a novelty for most Americans. But as smartphone cameras evolve and 5G networks come online, many investors and businesses are betting that the technology will become commonplace.

One of those companies is Arcturus Studios Holdings Inc., the Beverly Hills-based developer of a software product called HoloSuite, which consists of both an editing and a streaming platform for volumetric video.

Arcturus recently announced it had raised $5 million in a funding round led by Bitkraft Ventures. The company said the new capital would allow it to expand its team of software developers and enhance its product offerings to suit the needs of businesses and filmmakers experimenting with volumetric video.

"The work that we're doing now lays the foundation for allowing everyone to work in this medium," said Chief Executive Kamal Mistry.

This type of video, generally shot in studios with multiple cameras and depth sensors, can be used to create holographic images and virtual performances. In 2019, Arcturus worked with Madonna to broadcast a live performance at the Billboard Music Awards in which the singer was joined onstage by virtual clones.

"Volumetric video is the way we create a photocopy of a three-dimensional human performance," Mistry said.

Capturing those performances is a complex and expensive process, but Mistry said this could change as more smartphones are equipped with light detection and ranging, or Lidar capabilities.

"Over time, we will be able to capture volumetric video with our devices," Mistry said. "And when I say over time, I mean like in the next year or two. We're talking the very immediate future."

That could open the door to more applications for the technology, from holographic messaging to virtual customer service agents.

"You're not making synthetic characters, you're capturing reality," Mistry said.
 "Imagine wearing (augmented reality) glasses or holding up your phone, and that actor is looking at you — making eye contact with you."

One application that Arcturus has started exploring is in support of ecommerce businesses. Because volumetric video captures a full three-dimensional view of a subject, it's possible to use the editing and streaming tools developed by Arcturus to give customers fully interactive previews of merchandise.

"On the merchandising and marketing side of things, people are always looking for new ways to sell products," Mistry said. "This medium is a fantastic way to give the audience a new way to consume content."
For reprint and licensing requests for this article, CLICK HERE.