Logistics Company Happy Returns Is Acquired by PayPal
Thursday, May 13, 2021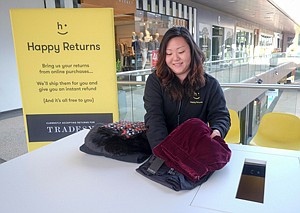 Santa Monica-based reverse logistics provider Happy Returns Inc. has been acquired by its investor, San Jose-based PayPal Holdings Inc.
Terms of the deal were not disclosed.
Happy Returns was founded by David Sobie and Mark Geller in 2015. It runs a network of some 2,600 drop-off locations that accept returns of online purchases and provide immediate refunds.
Happy Returns' software is used by more than 100 brands. Its platform works seamlessly with online retailers such as Revolve Group Inc. to process returns.
The company also works with brick-and-mortar stores such as Cost Plus Inc. to accept merchandise and send it in bulk to Happy Returns' warehouses. Online retailers save money on shipping costs while brick-and-mortar retailers — who provide the service free of charge to Happy Returns — benefit from walk-in traffic.
"The idea is that everybody wins," Chief Executive Sobie said in an earlier interview. "Cost Plus gets (a customer) walking in the door, and hopefully while she's there, she's going to look around the store and maybe buy something."
PayPal, via subsidiaries Honey and Venmo, follows consumers through their entire purchase cycle by presenting offers and deals, and processing payments for purchases.
The acquisition will enable PayPal to use Happy Returns' technology to extend its reach to post-purchase returns. Happy Returns, meanwhile, will use PayPal's support to improve its platform and expand its footprint.
"This is an incredibly exciting milestone for our company," Happy Returns' co-founders said in a blog post on the company's website. "We are confident that the best is yet to come, and are looking forward to our next chapter as part of the PayPal organization."
Happy Returns has 50 employees at its Santa Monica headquarters who comprise management, marketing, engineering and sales teams. Another 50 process returns at its warehouses in Van Nuys and in Blandon, Pa.
The company has raised about $25 million to date, including a $11 million investment led by PayPal in 2019.
For reprint and licensing requests for this article, CLICK HERE.