MaC Venture Capital Raises $103 Million Fund
Monday, March 29, 2021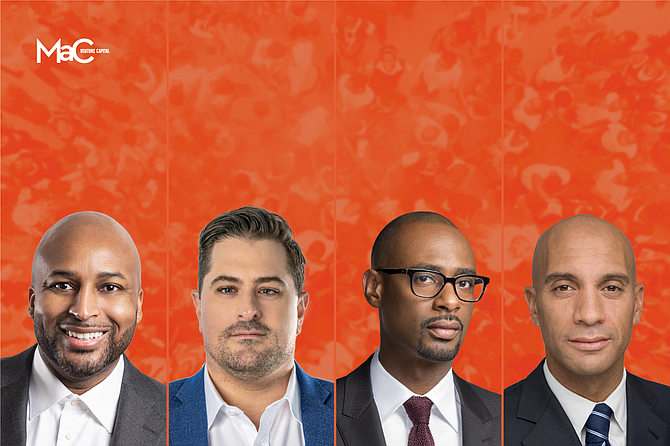 MaC Venture Capital, a seed-stage venture capital firm launched in 2019, announced March 25 that it had raised an inaugural $103 million fund for investments in early stage startups.

Goldman Sachs & Co., Bank of America  Corp. and FootLocker Inc. were among the companies particpating in the raise, along with Howard University.
 
Based in Los Angeles and Palo Alto, the firm formed through a merger between Cross Culture Ventures and M Ventures.
 
Its four managing partners are former Washington, D.C., Mayor Adrian Fenty, Cross Culture co-founder Marlon Nichols, former William Morris Agency talent agent Michael Palank and Macro Media Inc. Chief Executive Charles King.

MaC is majority Black-owned, and the firm plans to prioritize underrepresented founders in its investments. Because it was formed through a merger, MaC already has a portfolio that includes 25 companies, of which 76% have Black, Latinx or female founders, the firm said.

"Not only do we have the opportunity to really change the way capital is allocated by investing in more Black and Brown founders, we can also power companies that are closing the opportunity gap for large groups of people and create more diversity across a wide range of verticals," Nichols said.

The firm said it will make investments in companies within a broad array of tech categories, from ecommerce to aerospace The newly raised fund will be used to make investments in 40 startups, with an average investment of $1 million, the firm announced.
 
MaC said it would look closely into current consumer trends to identify startups "leveraging shifts in culture and behavior."

Fenty added that the firm would be on the lookout for founders ambitious enough to become "category leaders" within the tech industry.

"Although we are investing at a founder's earliest stage, with a minimum viable product and early traction, we ground ourselves in seeking big opportunities — companies that have the potential to scale quickly, change an industry and bring something net-new to society," Fenty said in a statement.
For reprint and licensing requests for this article, CLICK HERE.