Trial Lawyer Panish Wins Big Despite Covid Restrictions
Monday, March 29, 2021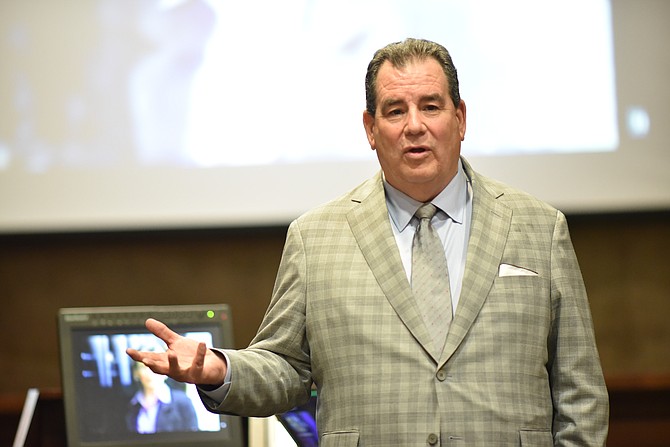 The pipelines to a jury trial were already clogged before the pandemic. Then they practically froze. But you might not know it from looking at Brian Panish's busy calendar.

Regarded by many as one of the country's leading trial lawyers, Panish, a founding partner of Sawtelle-based Panish Shea & Boyle, has continued racking up impressive trial victories despite the courts' slowdowns and standstills.
 
Panish secured a $23.7 million reward in a bench trial in February, representing a motorcyclist whose leg was partially amputated after he was struck by a vehicle making an illegal exit off the 405 freeway. (The court has yet to decide attorneys' fees in the case.)

The case was Los Angeles County's first, and so far only, in-person personal injury trial since the initial court shutdown in March 2020.
 
On reflection, Panish, 61, said one of the most difficult aspects of the trial was just getting there, which required some inventive problem-solving that might not have been considered in non-pandemic times.
 
He worked with the courts and opposing counsel to get the case tried. "The judge was very accommodating and enjoys trials," Panish said.

The parties entered into a high-low agreement ahead of trial, limiting the minimum and maximum reward for plaintiff Steven Rojas. The courtroom was filled with Plexiglas barriers over the course of the nine-day trial. It was overseen by Los Angeles County Superior Court Judge J. Stephen Czuleger and included eight days of witness testimony that was either prerecorded or provided over Zoom.
 
"Fortunately, it worked well for our client," Panish said. "You have to be creative and try to encourage the court to work with you, which is not easy in these times. There's significant resistance in Los Angeles County for these cases to proceed to trial."
 
Panish said he's unaware of any jury trials or civil cases occurring in L.A. County since, noting the freeze is causing an enormous backlog that will require an unconventional solution from the courts or the legislature that, thus far, has yet to be announced publicly.

Panish said the trial nonetheless marks a good first step and serves as proof that the difficult task of unclogging the backlog can begin safely but slowly.
 
"The backlog is having a compounding effect, and every day trials aren't occurring is another day of buildup," Panish said. "At some point, the dam is going to give, and the water is going to break through."

Growing backlog

Generally speaking, Panish said there hasn't been much hope of an easy alternative through settlement for plaintiffs whose cases are lingering in the court logs without any forward momentum. Delays are generally to the benefit of the defendant, Panish said, and the pandemic slowdown has been no exception.
 
This circumstance has led to what some attorneys have called a "Covid discount," Panish said, as defendants are able to eke out settlements from plaintiffs that they might not have otherwise been able to secure. The imbalance in leverage can only be corrected by giving plaintiffs a timely day in court, according to Panish.

"It's within their right (to delay). Defendants have a right to trial," Panish said. "But we need to have that trial."

Financially, Panish said, the firm has done well during the pandemic, all things considered. A graduate of Southwestern University Law School in Los Angeles, Panish co-founded Panish Shea & Boyle in 2005 with partners Adam Shea and Kevin Boyle.
 
They were able to retain and pay all 32 lawyers and the firm's staff throughout the worst of the pandemic unrest and court backlogs.

He said the inability to be in the office, however, has affected collaboration on cases and caused issues for "the great chemistry that existed."

"We pride ourselves in working as a team and having all players on the team contributing to the group effort. The ability to just walk into someone's office and discuss a case or strategy is hard to replace on Zoom."

Panish said he suspects the pandemic has slowed some of the growth for younger lawyers, given its impact on the firm's extensive mentoring programs.

"The best place for young lawyers to learn is in the courtroom, and we're hopeful the courts will open up soon, and people can exercise their fundamental Seventh Amendment — constitutional right to trial by jury."

Trials outside LA

As Panish advocates for more jury trials in Los Angeles, he's getting results outside of the county. In December, he helped secure a $39.5 million settlement brought on behalf of a California State University student who sustained a brain injury from heat stroke during a physical education class at the school's San Bernardino campus.
 
As plaintiff's counsel, Panish successfully advocated for a jury trial before San Bernardino County Superior Court Judge Lynn Poncin. Given pandemic precautions, it was an atypical courtroom setup — beyond the Plexiglas barriers, potential jurors were split up on either side of the room rather than bunched together in the jury box.
 
With jurors split, it could be hard to get a good read on their collective reactions throughout the voir dire process. His gestures were limited by the space and his ability to emote hindered by his protective facemask. It wasn't ideal, but Panish said, it's an attorney's job to adjust as necessary to get their client results.

"Good lawyers adapt; it's what they do," he said. "It was a much slower, much more deliberate process. You had to change the way you did things. But I think it worked out very well."

The case was paused partway through jury selection out of an abundance of caution given rising Covid-19 infection rates at the time. While Panish was ready to go the distance once things resumed, it proved unnecessary as both sides announced a settlement agreement had been reached.

"The judge in San Bernardino had the Department of Public Health involved. Every precaution was taken," Panish said. "This case showed that this can be done safely."

Porter Ranch case

While Panish has fared better than most litigators when it comes to moving balls forward, a number of his cases are still languishing in the backlog.
 
Chief among them is "the Porter Ranch case" — a consolidated action against Southern California Gas Co. over a 2015 gas leak that impacted thousands of residents in the San Fernando Valley's Aliso Canyon. It's estimated that the leaks could cost SoCalGas billions of dollars.
 
"Making movement on the Porter Ranch case has been a struggle with the restrictions on the court. It's very frustrating for the clients, who for six years now have not had a trial date, and there's still a ways to go," said Panish, who serves as co-lead on the case. "The judge has told us he's doing whatever he can, but he's got rules to obey. One judge can't act alone."

Still, progress is being made. In January, Los Angeles County Judge Daniel Buckley found that SoCalGas must pay punitive damages if it is found at trial to have engaged in bad conduct when addressing the leak. Every step forward helps, Panish said, but he's eager for the pace to pick up.

"We're in uncharted waters, and it's taking a lot of creativity and a can-do attitude as a plaintiff attorney, but that's bringing out the best of us," he said. "I'm optimistic no matter what happens that we can start moving things forward."
Keep reading the 
2021 Law Special Report
.
For reprint and licensing requests for this article, CLICK HERE.