Rocket Lab Launches 100th Satellite
Originally published March 23, 2021 at 9:52 a.m., updated March 26, 2021 at 10:24 a.m.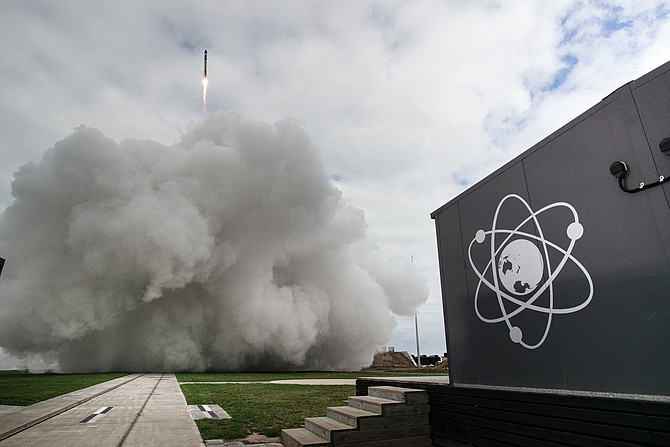 Long Beach-based aerospace company Rocket Lab USA Inc. successfully launched six satellites on March 22 and reached a new milestone.
The upstart rocket manufacturer, which launched its first spacecraft in 2017, has now deployed more than 100 satellites over the course of 19 missions.
"Reaching more than 100 satellites deployed is an incredible achievement for our team, and I'm proud of their tireless efforts," Chief Executive Peter Beck said in a statement, adding that Rocket Lab's Electron rocket is now the second-most regularly deployed U.S. rocket, behind Space Exploration Technologies Corp.'s Falcon 9.
Beck said the latest mission was a "flawless demonstration of how Electron has changed the way space is accessed."
The latest satellites put into orbit were launched aboard one of the company's Electron rockets from the Rocket Lab complex on New Zealand's Mahia Peninsula.
Five of the six payloads deployed roughly an hour after takeoff. The final payload was later deployed to a separate orbit, along with the launch vehicle's final stage — a company-designed Photon spacecraft.
The Photon device will demonstrate built-in thermal and power management capabilities as Rocket Lab prepares to use a separate Photon spacecraft in an upcoming lunar mission.
That launch, scheduled for the second quarter, is being conducted in partnership with NASA as part of the space agency's Lunar Gateway program.
NASA aims to construct a new space station orbiting the moon, and Rocket Lab's Photon spacecraft will carry a satellite into a test orbit in preparation for that project.
The Photon spacecraft that was launched March 22 was only the second deployed by Rocket Lab. The company also plans to use a Photon spacecraft in a 2023 mission to Venus.
Other satellites deployed by Rocket Lab in its most recent mission include weather and technology demonstration satellites as well as an Earth-observation satellite launched on behalf of BlackSky Global.
Rocket Lab announced March 25 that it would launch another four missions for BlackSky in 2021, with an option for an additional two launches in the final quarter of the year.
As Rocket Lab prepares for its lunar mission with NASA, the company is also readying itself for its debut as a publicly traded company. Earlier this year Rocket Lab announced plans for a reverse merger with special purpose acquisition company Vector Acquisition Corp., which will take the rocket manufacturer public at a $4.1 billion valuation.
The transaction, which is set to close in the second quarter of 2021, is expected to net Rocket Lab around $750 million with which it plans to develop a larger launch vehicle to complement its Electron rocket.
For reprint and licensing requests for this article, CLICK HERE.