Urb-E Raises $5 Million for E-Bike Deliveries
Monday, March 22, 2021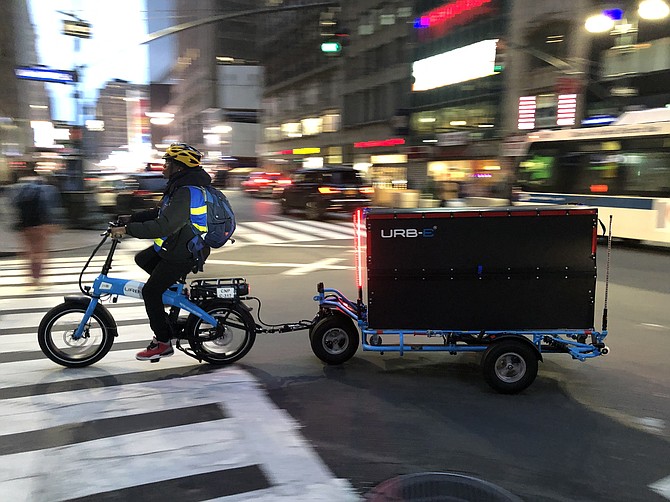 With ecommerce on the rise and millions of consumers now expecting same-day shipping options when shopping online, Pasadena-based startup Urban Electric Co. is betting that businesses reliant on bulky delivery vans will be looking for other options.

The company, which does business as Urb-E, was founded in 2013 by Peter Lee and Sven Etzelsberger and manufactures electric bikes and scooters. It's known to some Angelenos for a line of collapsible scooters introduced on the USC campus in 2018, but the company announced March 3 that it had raised $5 million to build out electric bicycle-based delivery networks.

Urb-E has already begun operating one of these networks in New York, and Chief Executive Charles Jolley said the company plans to start facilitating deliveries in the Los Angeles area this year.

Jolley is a serial entrepreneur and formerly led Facebook Inc.'s Android division. He became an investor in Urb-E in 2019 when the company began to focus on deliveries. Jolley took over as CEO last year.

He said the complicated logistical demands of ecommerce businesses require more nimble solutions for last-mile deliveries.

"We're replacing trucks and vans with electric vehicles engineered for every neighborhood," he said.

The company's electric bicycles are hitched to small trailers that carry foldable storage containers that can be wheeled on and off to facilitate a simpler loading and unloading process.
Jolley said most of the funds the company has raised so far will go toward building out its first few delivery networks.
"The idea is to eventually have enough units out there that if people need to get one for a day or a single delivery they can," he said.
Urb-E isn't the only company developing new technology to facilitate ecommerce deliveries, but Jolley said one advantage the company has is that it designs and manufactures its fleet of bicycles in-house, then manages rentals using proprietary software.
The company's control over each aspect of its business model gives it the ability to scale at its own pace, Jolley said.
"Structurally, if we're really going to move the needle and make this a product that can be deployed quickly, a way to do that is to be vertically integrated to the point where we own the whole fleet," Jolley said.
For reprint and licensing requests for this article, CLICK HERE.