Pandemic-Driven Demand Boosts Port Logistics Group
Monday, March 22, 2021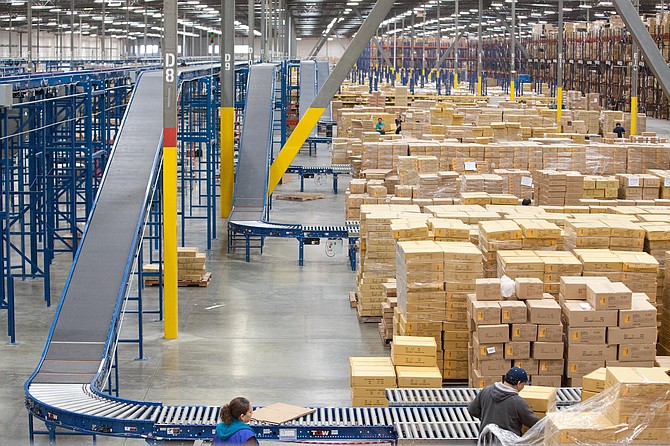 While the Covid-19 pandemic has shuttered entire industries over the past year, it has fast-tracked Port Logistics Group's expansion into ecommerce, assuring the company's continued growth.
 
City of Industry-based PLG, a third-party logistics company, had kicked off a five-year strategic plan in 2017 with about 5% of its revenue from moving goods that were bought online. Its goal at the time was to reach 35% by 2022.  

"In 2020, we hit nearly 50%," said Janise Kring, who was promoted to chief operations officer at PLG in February. "I don't think retail wholesale is going to get back to what it used to be. … We still have our legacy customers at wholesale retail that had always been our bread and butter, and we will continue with that as long as the market allows us, but we'll see a huge, continued focus on our ecommerce.

"You have stores that (have been) closed for months and that really are hanging on by a thread at this point," Kring added. "If that was our only customer, we would be right there with them. We all struggled, but because we had our foot in the door with direct-to-consumer ecommerce, we were able to pivot and have a larger portion of revenue coming from that."

PLG has some 3,000 employees and operates 18 facilities totaling about 6.5 million square feet near major ports locally and in Washington, Georgia and New Jersey.
 
The company handles warehousing and distribution for national apparel and consumer goods retailers, including Macy's Inc. and Bed Bath & Beyond Inc., as well as digitally native brands with no brick-and-mortar footprint.
 
PLG's transportation division picks up international cargo from major ports and delivers it to its warehouses to be processed, while the company's brokerage division can arrange transportation of goods via trucks or cargo trains to other locations.
PLG also provides "value-added" services such as placing clothes on hangers, retagging merchandise for various retail outlets, fulfilling online orders and inventory management, and shipping directly to end users on behalf of retailers.

"We want to be everything for our customer," Kring said, adding that one client "brought in weighted blankets that needed to be sent through a special machine to clean them. And so we had to go out and find a company that would do it. They sent the blankets to us. We sent them out to this company, they cleaned them, and then we were able to distribute them for the customer. … We also do special packaging and we can put a handwritten letter to the customer."

All the right moves

PLG brought in about $300 million in revenue last year, according to Business Journal estimates. That's a 35% uptick since Kring joined the company in 2018. She credits the growth to several moves the company made shortly before the pandemic that helped her team remain nimble and respond to the changing needs of its customers.
One of the moves was the 2019 acquisition of Oakland-based Whiplash
 Merchandising Inc. The ecommerce fulfillment platform processes consumer orders, updates brands' inventory and allows them to view, change or pause orders. It also integrates with third-party shopping cart platforms, such as Shopify Inc. and Magento Inc., as well as Happy Returns Inc., a Santa Monica-based network of some 500 drop-off locations that accepts returns from online purchases and provides immediate refunds.

"Our customers love it because they see that order immediately, and they can see what inventory they have to make sure that they're not putting something up there that's not available," Kring said.

She added that PLG can also drop-ship, where, for example, a client may receive a customer order from Target.com and PLG will fulfill that order and ship it to the customer on Target's behalf.

Having half of the company's revenue coming from processing online orders has its own challenges, which PLG tackled with automation.

"Ecommerce is very labor-intensive," she said. "It takes many more hours to process freight than it does in a retail environment (where) you're handling cartons, and most of it is carton in, carton out. Now we have 160,000 square feet of shelving … and (we) may be picking one or two items."

A tight labor market and social distancing mandates also complicates order processing, which has prompted PLG to embrace automation.  

"You can't throw enough people in (the warehouse) to get the throughput you need to service the customer, so we actually have added robots to our network (and) we probably have close to about 120," Kring said.
 
The autonomous mobile robots from Massachusetts-based Locus Robotics Corp. were deployed at PLG's Chino warehouses to help employees search for and pick up items off shelves more efficiently.

Being nimble has helped PLG expand some of its existing contracts and pick up new ones.
 
"We have a customer that started in September of 2018 with 45,000 square feet (of warehousing space)," Kring said. "They left their previous 3PL because they could not grow with them. By January of 2019, they were in 90,000 square feet, and by the end of the year they were close to 110,000. And now they're looking at expanding with us, and they're going to be in about 190,000 square feet."

Last week, PLG announced a multiyear logistics contract to provide nationwide fulfillment and distribution services in the United States for Calzedonia Group out of PLG's Newark, N.J., facility. The Italian retailer owns Calzedonia, a brand that specializes in legwear and swimwear, and Intimissimi, a lingerie and knitwear business.

"It was no longer practical for us to continue fulfilling U.S. orders from our distribution centers in Europe. With ecommerce growth far outstripping initial forecasts, we needed to pivot our strategy," Calzedonia USA Chief Executive Marcello Veronesi said in a statement.
 
"Port Logistics Group/Whiplash has extensive experience working with large fashion retailers and was able to integrate completely with our existing management systems. This unusual level of flexibility and expertise made PLG/WL the perfect choice to coordinate our U.S. fulfillment operation," he added.

Well-traveled

PLG was founded in 2008 by Bob Stull, who was backed by venture capital firm Austin Ventures. The company was created via acquisitions in New Jersey, Southern California and Seattle.
 
PLG, focusing on handling imports from major U.S. ports, was based in Houston at the time and had about $100 million in revenue. In 2014, Austin Ventures sold the logistics provider to Portland, Ore.-based Endeavour Capital and members of PLG's management team.
 
The company moved to City of Industry in 2016, where it operated nearly 2.5 million square feet of warehousing space. Now it has eight facilities covering 3.6 million square feet, out of nearly 2 billion square feet of warehouse and distribution space located within 60 miles of the San Pedro Bay port complex.

Kring, a former Target.com executive, said PLG has "some pretty lofty goals" for future growth, which might include acquiring other similar companies or "bringing on additional buildings."

"It really depends on the customers," she added. "We're not the type of company that (believes in) 'build it, and they will come.' We look for our customers to be an anchor to our buildings."

Either way, it appears that there's plenty of runway for PLG.
 
Armstrong & Associates Inc., a Milwaukee-based market researcher in the logistics industry, estimates the U.S. warehousing market is at $173.4 billion and will reach $179.2 billion by year's end.
For reprint and licensing requests for this article, CLICK HERE.