As Covid Restrictions Ease in LA, Most Businesses Take Things Slow
Monday, March 22, 2021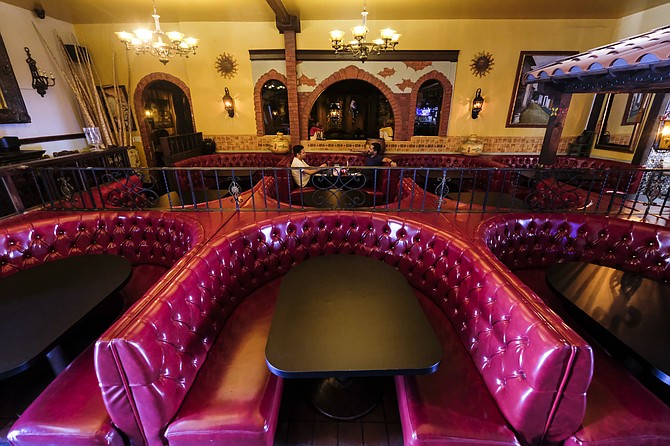 Restaurants in Los Angeles County may have the green light to reopen indoor dining rooms at limited capacity, but servers in red blazers aren't handing out steaks and martinis just yet at Musso & Frank Grill Co.
 
Co-owner Mark Echeverria, who serves as chief operating officer and chief financial officer, said Musso's will reopen when capacity limits are increased from the current 25% to 50%, which is where he says the storied Hollywood restaurant would break even.
 
"It'll be soon … so many people are getting vaccinated every day. I really have a good feeling about it," Echeverria said. Or, in the words of a customer he talked to recently: "I can see the martini at the end of the bar."
 
Gyms, movie theaters and museums were also cleared to reopen March 15 as L.A.  County moved into the state's less restrictive red tier of pandemic regulations. While some businesses flung open their doors, others are hopeful about the future but are moving more slowly, either for financial reasons or as a precaution because Covid-19 remains a threat.

"I feel like it's too soon," said Steph Sklar-Mulcahy, who owns CycleBar fitness franchises in Santa Monica and Culver City.
 
Although she's excited to see Covid-19 case numbers dropping, Sklar-Mulcahy said she has overcome too much in order to keep her gyms running outside at 50% capacity during the pandemic to jeopardize the business now. Her outdoor space is maxed out, and opening indoors could be a costly gamble in terms of taking those operating expenses back on and risking exposure to the virus.
 
"If we go inside, I think a lot of people are going to feel really nervous about keeping their membership with us," she said. "When you start opening things up, you've got to think about, 'Okay, these people are now eating out with members of five different families, and they're going to Disneyland.'... It's a big risk." 

Theaters take the lead

Among the first businesses to reopen on March 15 were the Burbank and Century City locations of Leawood, Kan.-based cinema giant AMC Entertainment Holdings Inc.
In a sign that not all consumers were nervous about being grouped together indoors, movie-goers in Century City were so excited to be back in a theater that they burst out in applause at the start of a March 15 afternoon showing of "Nomadland," according to The Hollywood Reporter.
 
Theater auditoriums are limited to capacity of 25% or 100 people, whichever is less. AMC has implemented safety protocols including mask-wearing unless eating or drinking in an auditorium, cashless transactions and social distancing. Hand sanitizer is also available throughout the theaters.
 
AMC was slated to resume operations at more than 40 of its California locations by March 19, including around 26 of its other locations based in L.A. county.

"The reopening of movie theaters in Los Angeles County and throughout California is a momentous occasion for AMC Theatres, for our guests, for our associates, for our studio partners, and for the entire theatrical exhibition industry," AMC Chief Executive and President Adam Aron said in a statement.  

But Greg Laemmle, owner of West L.A.-based Laemmle Theatres, which has eight locations countywide, said he is targeting mid-April for reopening.
 
After closing in March 2020, Laemmle said he had prepared to reopen in June last year. But a spike in Covid-19 cases derailed those plans.
 
This time, he is being more cautious. Laemmle said he will spend the coming weeks rehiring and training staff and prepping facilities. He said the company has been working with a "skeleton crew" since last March.
 
"We're just not ready," Laemmle said. "It's not about audience hesitancy or some other things like that. We've been closed for a year." 

Museums plan openings

Museum operators shared a similar hesitancy. Several, including the Hammer Museum in Westwood; the Huntington Library, Art Museum and Botanical Gardens in San Marino; and the Getty Villa in Pacific Palisades; are targeting mid-April reopenings. The Getty Center in Brentwood is expected to reopen a few weeks later, while The Broad downtown is eyeing a May reopening.

On April 1, the Los Angeles County Museum of Art in Mid-Wilshire is set to reopen galleries that haven't been demolished as part of its campus makeover. Member previews are expected to start on March 26.  

Museums, like restaurants with indoor dining, will be allowed to open at 25% capacity.
To meet that requirement, the Hammer will allow roughly 40 guests every hour, said Scott Tennent, the museum's chief communications officer.
 
Visitors will be able to reserve a time slot with no time limit on their stay, and museum staff will check every hour to ensure the campus hasn't exceeded capacity, Tennent said.
 
"We've anticipated about how long it takes to see the whole (museum)," Tennent said. "We will have gallery ambassadors in every space within the museum, just to kind of make sure that there's never going to be any crowding."
 
The Hammer will show its biennial exhibit "Made in L.A. 2020: A Version" in conjunction with The Huntington. The exhibit was originally set to debut last summer, but museums were forced to halt operations before the show could open.
 
"For a lot of the artists featured in this exhibition, it's a major moment in their careers," Tennent said. "So, we're just so excited that we finally get to share this exhibition with the public and give these artists their chance in the spotlight." 

Restaurants start cooking

When indoor dining restrictions were eased, El Compadre Inc. started seating guests right away in its dining rooms in Echo Park and Hollywood, as did Canter's Deli in Fairfax, Philippe the Original in Chinatown and Rock & Brews in El Segundo.
Many other businesses are taking it slow, however. Harold & Belle's in Jefferson Park and Hotville Chicken at the Baldwin Hills Crenshaw mall are sticking to takeout and patio dining.
 
"The dollars don't make sense at 25% capacity indoors," Hotville owner Kim Prince said in an email. With the space she has and the requirement that tables be spaced 8 feet apart, 25% capacity is more like 15%, she said.

"Add payroll for busser/servers on tables that turn hopefully every 90 minutes. I can't turn enough tables in a single day to justify the expense of opening indoor dining at 25%," she said. "Fifty percent would be more impactful to our bottom line; therefore, I'll wait." In the meantime, Prince added, come "enjoy our lovely patio and some good ol' sunshine."  

Pailin Thai Cuisine in East Hollywood's Thai Town was mulling a reopening this week, and West Hollywood-based Hwood Group is managing a phased reopening of its restaurants that started last week, beginning with The Nice Guy in West Hollywood.
While Musso and Frank waits for capacity limits to increase, fourth-generation owner Echeverria is busy prepping. He'll see to the servicing of the kitchen, which has sat dormant for the better part of a year; wrap up construction on an 1,800-foot expansion of dining rooms; and analyze ingredient costs in an effort to keep menu prices from increasing. The price of filet mignon, for example, has gone up 25% since this time last year.  

Musso's has furloughed its 84 employees but, using a Paycheck Protection Program loan and family money, has managed to cover 100% of health benefits for those on its plans.
 
Rather than adapting to the pandemic, Musso's ceased its operations entirely.
 
"Musso's has no intention of changing. … So many restaurants had to change. I get it. I totally get it. They had to. Musso's can't. We are what we are. And people like what we are," Echeverria said. "We want to be able to give people that opportunity to go back in time prior to Covid and maybe 100 years."  

And when the dining room finally does reopen, he added, "We'll have a lot of friendly smiles under masks."

For reprint and licensing requests for this article, CLICK HERE.