Arts District Development Amenities Include Automated Parking
Monday, March 22, 2021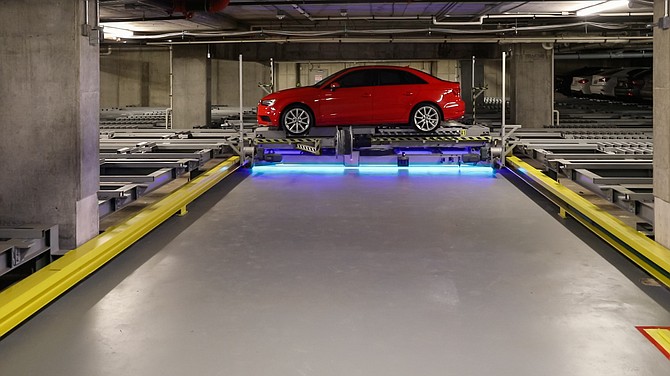 More automated parking garages are on the way to Los Angeles with one of the largest planned for Arts District Center, a hotel and condominium development in the Arts District.
 
Designed by AC Martin, the mixed-use project will bring 129 live/work condos, 113 hotel rooms, a residency program for artists led by the Los Angeles County Museum of Art, and 265 automated parking spaces.

Residents will be able to use the robotic parking structure. Tenants with autonomous vehicles will have the option to leave their cars outside the building's lobby. Their cars will then drive themselves to the loading bays.
 
Created by Park Plus Inc., the garage will employ robotic shuttle units, traffic management software, and switches and lasers to manage the storage and retrieval of vehicles parked in the lot.

Bosch Mobility Solutions is working with Park Plus on the autonomous vehicle integration for future automated valet parking.

The parking structure will also be
 electric-vehicle compatible and will allow the car's owner to schedule charging using an app.

Paul Bates, group president at Park Plus, called working with autonomous vehicles "the natural progression."

He added that the Arts District Center developer was forward-looking in its parking plans.
 
"We've stepped up to the challenge to create a protocol to deal with an autonomous vehicle," Bates said.

"If we look at the future, we certainly see where people will get dropped off at their destination and get out of the vehicle, press the remote control, and then that vehicle will drive itself, and go and park in a stall. That's the future. There's a lot of wasted time trying to park vehicles," he added.

Park Plus now has two completed locations in L.A. and a handful of additional facilities either in planning or under construction.

Bates said that some garages were part of larger, mixed-use projects and others were stand-alone facilities.
 
Automated parking garages are not new to L.A. In 2013, a facility touted as the first automated structure on the West Coast opened under the UCLA Santa Monica Outpatient Surgery Center.
 
These automated facilities have grown in popularity over the past few years, and more are either in the works or planned for L.A.
 
In 2019, developer Walter Marks unveiled plans for an amenity-heavy 42-story tower in Miracle Mile. The $400 million building at 5411 Wilshire Blvd. will have an automated parking garage.

Tenants will be able to drop their cars off in a parking bay where a lift will lower their vehicle into underground storage. The facility can also charge electric vehicles. When residents are ready to leave, they scan a keycard and the garage will retrieve their car.
 
Marks also opened an automated parking structure in 2017 with AutoParkIt at the Helms Bakery Complex in Culver City. It has room for about 70 more cars than a traditional structure of the same size.

CityLift Parking has also been working on automated parking in L.A. Last year, the company completed a project at 3205 Pico Blvd. in Santa Monica. The project is a three-story office and retail space with 14 automated parking spaces.
For reprint and licensing requests for this article, CLICK HERE.