Tackling the Challenge of Healthcare Inequities
Custom Content by the Los Angeles Business Journal
Friday, March 19, 2021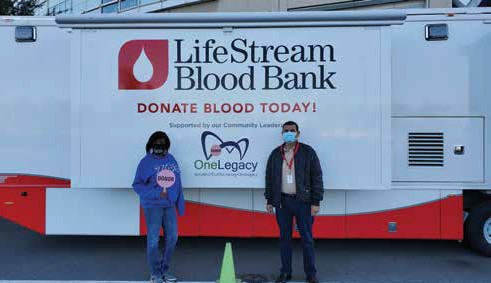 We live in a time of heightened awareness of the significance of diversity and inclusion in every walk of life.  With ever-increasing understanding, we are appreciating that the splendor in our differences makes us a better and stronger society.  
The recent observance of Black History Month was a time to celebrate the history of African Americans and the contributions they have made towards forming a more perfect union.  More broadly, celebrations such as this are also a time to candidly acknowledge the tragic fact that discrimination and racism still exists today, including appalling disparities in education, wealth, housing, employment, the criminal justice system and healthcare and health status.
The challenge of healthcare inequities is currently staring all of us in the face with the disproportionate rates of suffering and death among communities of color caused by COVID-19.  Another less talked about health disparity exists in organ and tissue transplant rates.  Forty percent of the U.S. population are persons of color, yet those communities make up nearly 60% of the 109,000 Americans waiting for a transplant — including 29% African American and 21% Hispanic. The pronounced need for donation and transplantation in these populations stems from the higher rates of diabetes, high blood pressure and heart disease that contribute to organ failure among these communities. Shockingly, African Americans are almost four times more likely than white Americans to have kidney failure; Hispanics are 1.3 times more likely than non-Hispanics to have kidney failure.
The good news is that here in Southern California Blacks constitute 7% of our population and comprise 7% of our donors. But Blacks constitute 10% of our local waiting list and receive only 9% of all local transplants. Overall, persons of color constitute 82% of our local waiting list yet receive only 69% of transplants. While Whites who are 30% of our community are only 18% of our waitlists and receive 31% of local transplants.  While we have made some good progress, clearly more needs to be done.
These and other health disparities that exist among minority communities of color are the result of a multitude of issues, including financial and cultural barriers to access healthcare, a multi-generational distrust of the medical system, traditional beliefs around death and dying, and the false presumption that the organ transplant system discriminates.  The truth of the matter is that the opportunity to donate and to receive a lifesaving transplant knows no sexual orientation and has no national, racial, ethnic nor religious boundaries.
Los Angeles is home to the most diverse region in the nation boasting 185 distinct languages and cultures (OneLegacy's seven-county service area is comprised of 69% Hispanic, Asian and Black as compared to 31% white). This multi-cultural and multi-ethnic community makes it imperative that every business do what it can to foster diversity and equality, to embrace all cultures and influences and to continually explore ways to reflect plurality and inclusion in every dimension of their enterprise.  
We know and applaud the many organizations – large and small business, for and nonprofit, private and publicly held – who are working to make a meaningful impact in our community and to help heal the wounds of inequalities that have stained our nation for far too long.  OneLegacy is proud to join in that effort.  Here are some of the things we are doing:
In 2020 we launched a series of virtual Town Halls (some bilingual), featuring hosts and guests of diverse backgrounds.  The goal of these Town Halls, which are continuing with increased viewership in 2021, is to bring heightened awareness to donation and transplantation in minority communities and to bridge the gap between the demand for organ transplants and supply of donated organs.
We are engaged in a social media outreach campaign to share facts and figures about health care access and disparities among diverse communities.  While our charter concerns organ and tissue donation, we recognize that the issue of health disparities stretches far broader and only by acknowledging the totality of the problem can true progress be made.
We've produced public service announcements highlighting health resources available for African Americans, Hispanics, Asians and Native Americans in Southern California. Through this effort we are encouraging communities of color to seek appropriate health care whenever needed and to register to be an organ and tissue donor. By doing so we can create healthier communities through the generous gift of life and transplantation, an action that looks beyond race and ethnicity to simply help those in greatest need.
We are identifying partner organizations with whom we can share ideas and resources while growing together. Last month, in honor of Black History Month, we joined with Zeta Phi Beta — an international, historically African American Greek-lettered sorority — and LifeStream Blood Bank at Arrowhead Regional Medical Center in Colton to encourage blood donation and, at the same time, register people to be organ and tissue donors.  We are also working with the Young Visionaries Leadership Academy in San Bernardino to offer free meals and essential household supplies to families in need.  We invite other organizations with shared mission and values to join us in this effort.
We continue to re-educate ourselves to assure that diversity and inclusion become an integral part of everything we do, including our participation in the annual Rose Parade, our team of OneLegacy Ambassadors, our DonateLife Hollywood outreach efforts and the composition of our workforce.  Only by doing so can we truly reflect the rich and powerful diversity of our unique Southern California community.  This will assure that our core values are rooted in a conviction to equality in all its diverse definitions, leading to effective and lasting community engagement and social impact.
Let none among us remain on the sidelines, as silence and inaction has contributed mightily to where we are today. It is time to recognize the full human equality in all of our fellow citizens, to make sure that every voice is heard, that every person is respected and that every life is cherished. We must do this and more not because it is fashionable, but for the single and fundamental reason that it is the right thing to do.
Tom Mone is chief executive officer of OneLegacy, a nonprofit organization dedicated to saving lives through organ, eye and tissue donation in seven counties in Southern California: Los Angeles, Orange, Riverside, San Bernardino, Ventura, Santa Barbara and Kern. It serves more than 200 hospitals, 10 transplant centers, a diverse population of nearly 20 million, donors and families across the region, and waiting recipients across the country. For more information, visit onelegacy.org.
Return to Symposium Recap
For reprint and licensing requests for this article, CLICK HERE.