Learning from the Challenges of 2020
Custom Content by the Los Angeles Business Journal
Friday, March 19, 2021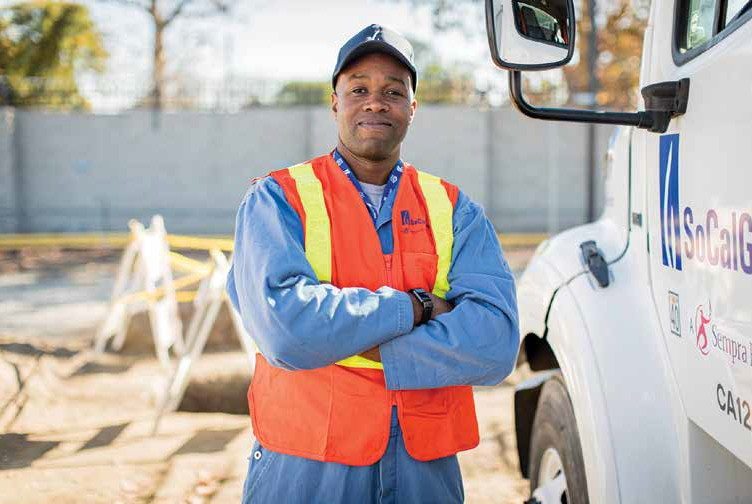 George Floyd's death was a tragic inflection point.

The world reacted with horror, millions took to the streets and change was demanded.

Positive changes were made, much more needs to be done and SoCalGas is helping lead the way.

The company has a proud history of pursuing social justice and is honored to be a Company of the Year nominee at this year's Los Angeles Business Journal's Diversity, Inclusion + Equity Awards.

SoCalGas listens, learns, changes and improves.

"We were all challenged in 2020," Jeff Walker, SoCalGas senior vice president, chief administrative and diversity officer, said. "The SoCalGas family came together and responded and we are proud of the positive impacts we made thus far while acknowledging that there is much more that we will do."

SoCalGas, the nation's largest natural gas distribution utility, is a values-led organization focused on diversity, equity, and inclusion. The company's 8,000 employees mirror the 22 million customers it delivers clean, safe, and reliable energy to.
In the aftermath of George Floyd's death SoCalGas took a top-down look at itself. It listened to employees, customers and many business partners.

Changes quickly arrived.

An Executive Council on Diversity, Equity and Inclusion, chaired by SoCalGas CEO Scott Drury, was created. It was made up of a cross-section of executives and senior management and provides direction, oversight, and support for the company's Equity Action Plan. The plan focuses on the company's efforts with all underrepresented communities, gender equality, closing the digital divide, paving the way for future careers, supporting the economic stability of communities, and more.

The company expanded its Diversity, Equity & Inclusion Department in 2020. Walker was appointed the company's first senior vice president, chief administrative and diversity officer. Jill Huppenbauer took on the newly created position of director – diversity, equity & inclusion.  Equity was added to the title to reflect efforts to address any barriers or systemic inequities that could lead to unfair conditions for employees.

Safe spaces were created in 2020 for SoCalGas employees to tell and share their individual stories. More than 700 participants from across the company took part in a conscious inclusion program to help employees discover the links between diversity, inclusion, and bias as well as understand unconscious bias and how it impacts individuals, teams, and organizational culture.

SoCalGas also offered enterprise-wide respect training programs and began to reexamine and refresh existing programs focused on diversity, equity and inclusion.

"Thousands of employees at all levels of the organization were involved in multiple 'Community Conversations' and department-level dialogues," Erin Smith, SoCalGas chief talent and culture officer, said.

"They offered colleagues a safe space to hear one another's perspectives, experiences, fears, and hopes. The conversations and insights helped increase understanding and build bridges. They also led to actions and sustainable change."

SoCalGas' Supplier Diversity Program began taking shape more than 45 years ago, guided by insightful leaders who recognized buying products and services from diverse suppliers was good for the company, customers and communities.

SoCalGas has surpassed the California Public Utilities Commission's (CPUC) diversity supplier goal 28 consecutive years. In 2020 SoCalGas awarded a record $884 million in contracts to more than 550 minority, women, service-disabled veteran, and LGBT-owned businesses. It totaled 42 per cent of the company's total spending, almost double the CPUC target.

The Southern California Minority Supplier Development Council (SCMSDC) recognized SoCalGas as 2020 Corporation of the Year at its 36th Annual Leadership Excellence Awards. The SCMSDC's award selection committee unanimously selected SoCalGas.

"SoCalGas is committed to supplier diversity, and each year, has continued to strengthen its programs and services to ensure inclusion of minority business enterprises (MBEs) and other diverse businesses in their supply chain," Virginia Gomez, SCMSDC president and CEO, said.

The company's spending among African American and Black nonprofits more than doubled in 2020 and a recovery program providing one-time grants totaling $75,000 for Black-owned restaurants affected by COVID-19 restrictions was launched. The company invested an additional $700,000 to support social justice initiatives.

When the COVID-19 pandemic shut schools and forced students online, SoCalGas provided 335 Black, Latino and Native American students with computer equipment, internet access and tutoring. In addition, more than 1,100 underserved students are receiving Science, Technology, Engineering, and Math (STEM) distance learning training.

SoCalGas recently partnered with local National Association for the Advancement of Colored People (NAACP) branches to provide $75,000 for 15 college scholarships. One of the recipients, AbdulKarim Moctar, a fourth-year electrical engineering student at California State University, Northridge, struggled when the pandemic forced his classes online. His laptop could not handle the complex simulations his course required, and he often trailed his professor and other students as his screen froze. The 21-year-old, who has maintained a 3.55 GPA, plans to use the scholarship to buy a new computer and pay for food and other expenses.

"Above and beyond the traditional scholarships, SoCalGas is focused on providing an additional 25 scholarships to underserved students through Black-led nonprofits, with a focus on STEM," Andy Carrasco, SoCalGas vice president, communications, local government and community affairs, said. "The company's vision is to restructure the scholarship program to provide college-bound STEM-focused students with substantial, recurring scholarships for all four years, and offer paid summer internships and mentorship opportunities, with the potential for full-time employment at SoCalGas."

Making a difference goes beyond listening.  

It requires action.

"When diversity is championed, we're all stronger and better at what we do," Smith said.

Information for this article was provided by SoCalGas.  
Return to Symposium Recap
For reprint and licensing requests for this article, CLICK HERE.