NuOrder Raises $45 Million for Wholesale Ecommerce Platform
Monday, March 15, 2021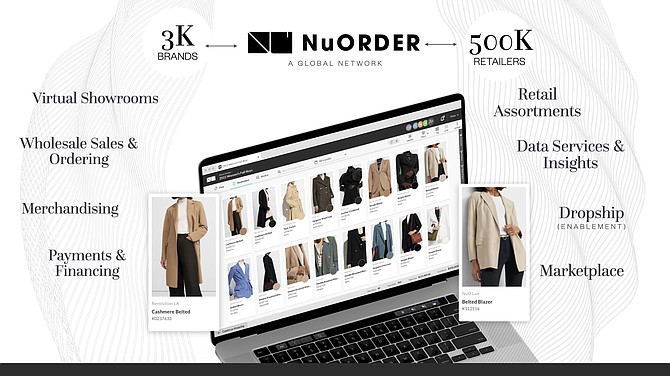 NuOrder Inc., the Century City-based developer of a wholesale ecommerce platform for brands and retailers, announced March 10 that it had raised $45 million in a new round of funding led by Brighton Park Capital Management and Imaginary Ventures.

The company said the funds would facilitate growth and expansion into new markets.
Founded in 2011 by husband-and-wife duo Olivia Skuza and Heath Wells, NuOrder works with more than 500,000 retailers and 2,000 brands to facilitate online business-
to-business transactions.
 
NuOrder's platform includes virtual showroom and payment processing features that the company says streamlines the order process for brands and gives retailers the opportunity to visually browse products and check availability.
 
According to the company, major retailers using its platform to buy and sell products include Nordstrom Inc., Saks Fifth Avenue and Bloomingdale's.

NuOrder said its business saw 125% growth over the past year with the pandemic driving retailer demand for ecommerce capabilities.

"Our vision is to create a single cloud-based platform marrying visualization tools and data, payments and discovery," Skuza and Wells said in an email.

At present, much of this work is done by retailers using Excel documents and handwritten orders, the founders said. "The funding is a validation that the time is now, and technology will become the norm for the industry," Skuza and Wells said.

The company said most of the funding will go toward further developing and refining its core product. "We will be looking forward to evolving our virtual selling and virtual showroom technology, including 3D and immersive shoppable content," Skuza and Wells said.
 
They added that NuOrder will also focus on expanding artificial intelligence-based components of its platform, which facilitate "assortment optimization" for retailers.

As a result of the funding round, Imaginary Ventures Managing Partner Natalie Massenet and Brighton Park Managing Partner Mark Dzialga will join the company's board with Massenet serving as a "strategic partner" as the company grows its business in the European market.

Nearly one-third of NuOrder's gross merchandise volume in the last 12 months came from Europe, and Skuza and Wells said the company's European business grew more than three-fold year over year.

Massenet said in a statement that she would "help guide the company as it enters into this next phase of growth," adding that NuOrder has already "built the much-needed technology to power wholesale, buying, merchandising and now payments, providing businesses with digital tools to work efficiently and profitably in a rapidly changing consumer and retail landscape."

NuOrder has also put its platform to use over the last year to facilitate virtual fashion industry trade shows. The company partnered with Informa Markets Fashion to launch a digital event in September.
For reprint and licensing requests for this article, CLICK HERE.