Canoo Reveals Electric Pickup Truck
Monday, March 15, 2021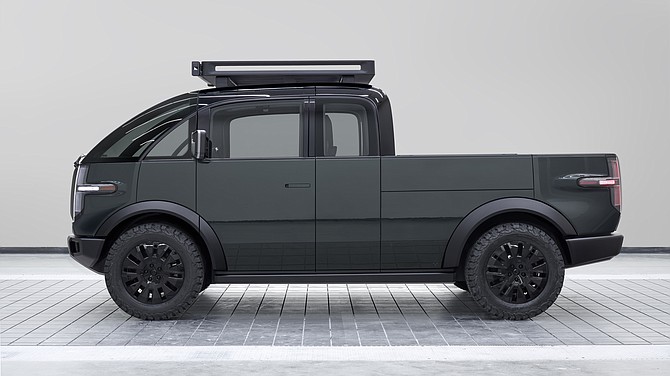 News of Canoo Inc.'s first pickup truck leaked ahead of a scheduled March 11 announcement during the Motor Press Guild's Virtual Media Day event, but investors clearly liked what they saw in the sneak peek.

Shares of the Torrance-based designer of electric vehicles rose about 10% after the early reveal, boosting Canoo to a market value of $3.5 billion.

The company said it will start taking orders in the second quarter of this year and expects to begin making deliveries of the vehicle in 2023. Pricing details were not disclosed.

The pickup has a battery range of more than 200 miles, a payload capacity of 1,800 pounds and is highly customizable.
 
At first sight, the truck's rounded and somewhat cubed front-end resembles a Zamboni. But Canoo believes any aesthetic concerns will be overcome by the vehicle's versatile 6-foot bed.

The truck's bed can expand up to 8 feet, has a storage drawer underneath that doubles as a step, and its sides can fold over to serve as a workbench. The bed also can accommodate a camper shell, and there's access from the cabin to the cargo area. And yes, it can hold a canoe.

"We put as much thought into this truck bed as most people put into an entire car," Executive Chairman Tony Aquila said in a video. "When the working person sees this they go, 'I can have a better quality of life with this vehicle, and I can get a return on capital.' And every one of these areas is a space to create a return on capital, (which) is why we spent so much money to develop the most intelligent bed."

Aquila also raved about the vehicle's front-end electrical outlets, which can be used to charge equipment, and the pickup's engine, which weighs less than 200 pounds.
 
"It's got 300 horsepower, nearly 300 pounds of torque, and I can put two of them in there," he said. "We're thinking about things that most designers and engineers just don't think about. Why? Because they don't work a truck. They don't make their living (with a truck). They don't put their kids through college with their truck. We do."

The pickup also features Canoo's proprietary skateboard-shaped chassis, which helps the company maximize the amount of available cargo space in its vehicles.
The reveal comes a couple of months after Canoo announced a $33,000 delivery v
an that it aims to bring to market in 2022.
 
The company also plans to launch a seven-seat "lifestyle vehicle" in mid-2022 that will feature an "estimated range of 250-plus miles, a 300-horsepower electric motor and a charging time of 20% to 80% in 28 minutes," according to documents filed with the Securities and Exchange Commission.
 
Also in the works, the company said, is a sedan-like "sport vehicle" model that is expected to be available in 2024 or 2025.
 
Canoo will outsource vehicle manufacturing to reduce its upfront capital investment and to eliminate the recurring fixed costs and overhead associated with owning and operating a car factory.
 
Last year, the company signed a deal to license its electric chassis designs to South Korea-based Hyundai Motor Group, for use on future Kia and Hyundai electric vehicles.

Stefan Krause launched Canoo in 2017 as Evelozcity Inc. He stepped away from his duties as chief executive in 2019, citing personal reasons. The company, which has more than 350 employees, began trading on Nasdaq under moniker GOEV on Dec. 22, via a reverse merger with Hennessy Capital Acquisition Corp. IV.

The SPAC deal provided Canoo with $600 million in capital and a pro forma market valuation of $2.4 billion, which it has already surpassed.

For reprint and licensing requests for this article, CLICK HERE.