Big 5 Rebounds to Post $1 Billion in Revenue
Monday, March 15, 2021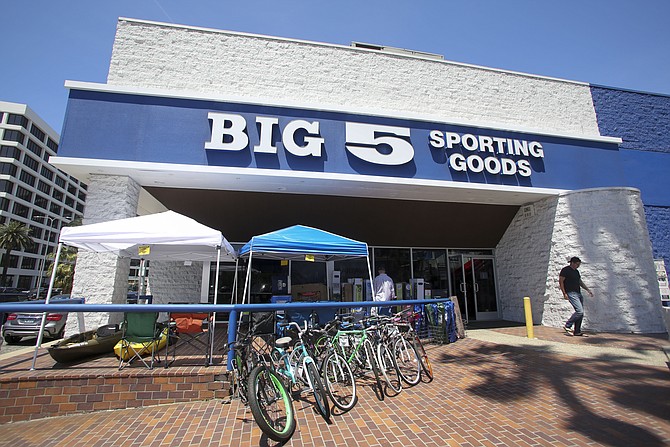 Last March, at the outset of the pandemic, shares of Big 5 Sporting Goods Corp. dipped below $1. A year later, its stock is trading at about $15, for a market value of $332.1 million.

The El Segundo-based sporting goods retailer attributed the recovery to "top-line sales growth, merchandise margin expansion and an improved cost structure." It's also tracking a 20% uptick in same-store sales in the first quarter of this year as demand for home fitness products and outdoor recreational activities remains strong.
 
"People have made significant investments in equipment for home gyms and have newly engaged, perhaps reengaged, in activities such as golf, tennis, hiking, camping, fishing among others," President and Chief Executive Steve Miller told analysts during a March 2 earnings call. "We believe that even once the world begins to normalize, many customers will continue to pursue these activities and shop with us as they look to make further investments in their equipment. Importantly over the past year, we have expanded our customer base, and we believe we are very much at the forefront of customers' minds when it comes to sporting goods."

Big 5 operates 430 stores, a 1.1-million-square-foot distribution center in Riverside and a 12,000-square-foot distribution hub in Oregon.
 
It posted $21 million in net income on $290.6 million in revenue during the fourth quarter, compared to net sales of $244.1 million and $400,000 in earnings during the same period in 2019.
 
"We continued to see tremendous momentum in our hard goods category, which increased nearly 40%, driven by extraordinary demand for products related to home fitness, along with outdoor and home recreation ... (and) continued strong demand for firearms-related products," Miller said.
 
"Same-store sales for the apparel category decreased in the mid- to high-single digits, and our footwork category decreased in the high teens, both … negatively impacted by ongoing suspensions of team sports seasons due to Covid," he added.

Big 5's net sales for fiscal 2020 were $1.04 billion, compared to $996.5 million in fiscal 2019.

Same-store sales increased 3%, despite pandemic-related store closures, according to Chief Financial Officer Barry Emerson.
 
Net income for the year was $55.9 million or $2.58 a share, up from $8.4 million, or 40 cents a share, in 2019.

"For the fiscal 2021 first quarter, we expect same-store sales to increase approximately 20% and expect to realize earnings per diluted share in the range of 47 cents to 53 cents," Emmerson said. "This compares to a same-store sales decrease of 10.8% and a loss per share of 22 cents in the first quarter of fiscal 2020."
For reprint and licensing requests for this article, CLICK HERE.