Passenger Traffic Plunges Again at Local Airports in January
Monday, March 8, 2021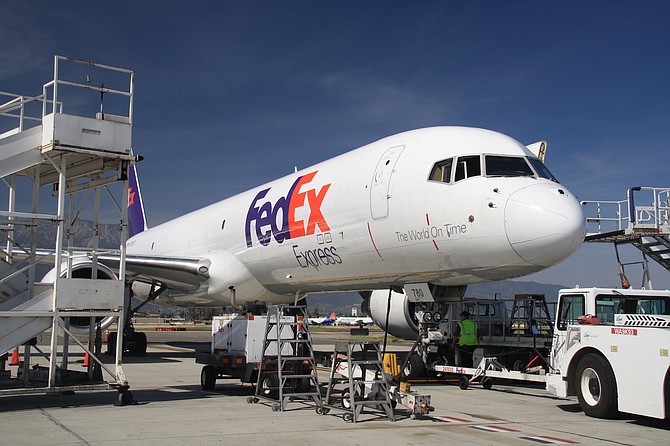 The "K-shaped recovery" phenomenon doesn't just apply to the Covid-era economy — it's also occurring at the four commercial airports serving Los Angeles County as passenger counts continue to drop while cargo tonnage continues to surge.

In January, the cumulative passenger count at Los Angeles International, Ontario International, Hollywood Burbank and Long Beach airports was 1.98 million, down from 2.3 million in December.

It's the lowest total since August and it marked a 75% plunge from January 2020 results.
 
The steep decline was driven by the third and most severe coronavirus wave to date, which swept through the region at the end of the year and continued in early 2021.

But cumulative cargo tonnage at the four airports rose 25% in January from the same month in 2020, reaching a record 302,000 tons. LAX led the surge with a 29% jump as personal protective equipment and now vaccine shipments flowed through the airfield.

On the passenger side, January traditionally has been a weak month for air travel, coming on the heels of the busy holiday travel season. But this year's fall-off was greater — a 14% drop from December and the third consecutive drop since October's pandemic-era peak of 2.5 million passengers.
 
It was particularly disappointing, as earlier forecasts had pegged a recovery to begin late in 2020 and continue into 2021.

The numerical drop in passengers for January compared to the same month in 2020 was greatest at LAX, which saw a decrease of nearly 5 million, or 74.2%, to 1.72 million.

Preliminary LAX passenger count data for February shows some improvement — at least in the magnitude of the plunge from the same month a year earlier.

According to Los Angeles World Airports, the city agency that runs LAX, boarding passenger screening data obtained by the Transportation Security Agency tabulated 825,000 passengers in February, down 69.4% from the same month a year ago.
 
This TSA count only includes boarding passengers. Total passengers going through the gates at LAX was roughly double this amount. That total figure of nearly 1.7 million — if it holds up when the airline passenger reports come in — represents a daily passenger total of 58,900, up from January's 55,500.

"In February, we saw a slight increase in passenger numbers," said Justin Erbacci, LAWA's chief executive. "With airlines adding flights to their spring and summer schedules, we are cautiously optimistic that this trend will continue as we approach the spring travel season."

Widespread declines

Turning to the region's other airports, both Hollywood Burbank and Long Beach airports posted massive 85% drops in passenger traffic in January compared to the same period last year. This decrease reflects a common trend during travel downturns of airlines cutting flights at smaller or outlying airports and consolidating those flights at larger airports.
 
This effect was magnified at Long Beach Airport as JetBlue Airways Corp., previously the dominant carrier at the airport, cut all flights there in favor of an expansion at LAX.
 
JetBlue made its decision to exit Long Beach before the Covid pandemic. The move came after the city denied the carrier's bid to establish international service at the airport. The pandemic prompted the airline to move up the transition date.

Ontario airport continued to fare a bit better. Its passenger count of nearly 152,000 in January was down 66.6% from the same month in 2020.

"Ontario was the fastest growing U.S. airport before the Covid-19 pandemic's sudden and severe impact on global air travel," Mark Thorpe, chief executive of the Ontario International Airport Authority, said in an announcement. "It is now the fastest recovering airport in California and the third-quickest to restore flight services in the U.S."

Thorpe's comment came as part of an announcement that Fort Worth, Texas-based American Airlines Inc. plans to add two flights from Ontario to Chicago's O'Hare International Airport starting in August.

PPE import surge

Meanwhile, the pace of year-over-year growth in cargo tonnage at area airports accelerated in January, especially at LAX, which saw a record 223,000 tons go through its airfield.
 
That amounted to an increase of 29% from last January when the pandemic-induced shutdown of Chinese factories began. LAX has long been a major import hub for Chinese products.

A key component of the cargo surge at LAX has been a massive uptick in imports of personal protective equipment to guard against the coronavirus. By the end of last year, PPE imports through LAX had rocketed roughly 20,000% above 2019 levels, according to Erbacci.

Ontario International continued to see double-digit growth in air cargo tonnage, with a 17.8% jump in January to 73,332 tons. As online orders surged during the pandemic, that airport has emerged as a major cargo hub tied to the extensive warehouse and distribution facilities in the region.

"Cargo continued to be a source of strength in January like it was for all of 2020," Thorpe said in the authority's monthly data release. "Freight shippers continued to show great confidence in our ability to provide the infrastructure and facilities they needed to meet increasing demands on the ecommerce supply chain."

Thorpe noted that Memphis, Tenn.-based FedEx Corp. opened a new facility at Ontario in November, a 251,000-square-foot complex with sorting machines capable of handling 12,000 packages per hour, nine wide-body aircraft gates, 14 feeder aircraft gates and 18 truck docks.
For reprint and licensing requests for this article, CLICK HERE.