Healthy Meal Startup Everytable Charts Path for Rapid Growth
Monday, March 8, 2021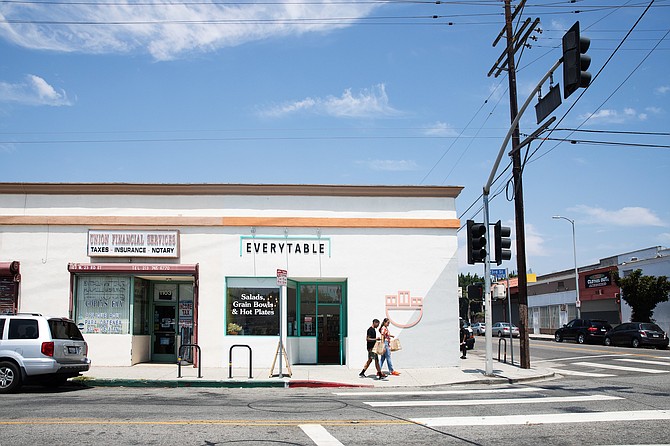 Vernon-based prepared meal startup Everytable has been aggressively growing, and the company plans to continue expanding its reach both through smaller storefronts and deals with landlords.

Everytable, which raised $16 million in Series B funding last year, has 11 locations but expects to have more than 30 by the end of 2021.

The company makes grab-and-go healthy meals and aims to make healthy options affordable in lower-income areas as well.

"Everytable is a mission-driven company. The mission is fighting food justice inequality," said Mark Seferian, the company's vice president of real estate. "We want to deliver fresh, nutritious food and make it accessible and affordable for everyone."

To keep prices down, the company has a central kitchen in Vernon where all the food is made. That food is then pushed to the company's restaurants, delivered as a subscription service and put in smart fridges.
 
Everytable's retail spaces can range from 250 to 1,500 square feet, which Seferian said allows the company to open in a variety of locations, including at universities.
The company is also opening locations in office buildings.

"We go into office buildings in a couple of different ways. We can lease space or, where there's an office building that needs some food offerings for its patrons and is not a strong location, we can do an amenity deal," Seferian said.

Amenity deals usually occur when the property isn't right for an Everytable storefront location. But because the landlord wants food services in the building, the company is offered a more attractive deal, which could include discounted rents and increased tenant improvement allowances.
 
The company has amenity deals with Brentwood-based Hudson Pacific Properties Inc., Sawtelle-based Kilroy Realty Corp. and Tishman Speyer Properties.

"We will continue to do that," Seferian said. "In each market we try to partner with the large developers and do these deals."

The company is looking to open 25 to 30 additional locations this year and 40 next year in Southern California.
 
Everytable is also looking at other locations. Seferian said that by the end of the year, he wants one additional central kitchen and five retail locations in other markets.
 
Seferian said there are a lot of Covid-related vacant storefronts that the company may be able to tap into as part of its growth plan.

"There is availability of space that has not been available in a lot of years. We are fortunate to be able to grow," he said, adding that some storefronts are more affordable now than they would have been in years prior.

Everytable plans to remain true to its mission of affordable healthy food as it grows by doing things like charging less in underserved areas where rents are lower, allowing someone in South L.A. to pay less than someone in, say, Santa Monica.

Seferian also sees more kiosks in the company's future, which work well for areas like college campuses and malls, he said.

"We are very flexible," he said, "and we are opportunistic."
For reprint and licensing requests for this article, CLICK HERE.