Virgin Orbit Launches First Commercial Mission
Wednesday, June 30, 2021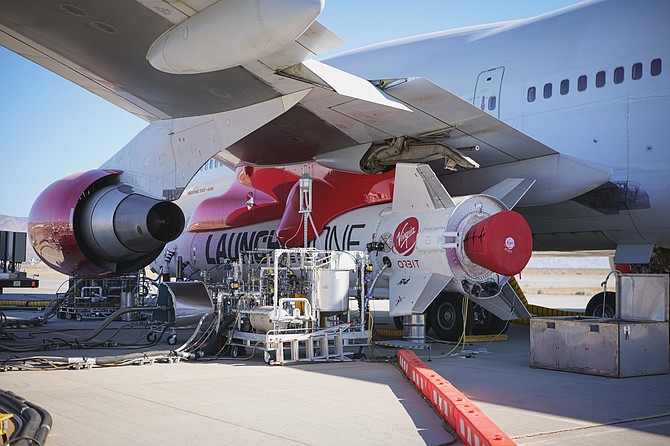 Long Beach-based Virgin Orbit staged its first commercial mission as part of its second successful launch of a rocket into Earth's orbit on June 30.

The mission, which Virgin Orbit titled "Tubular Bells: Part One," deployed seven satellites: two earth-observing satellites for Poland-based manufacturing company SatRevolution, four satellites for the U.S. Department of Defense's Space Test Program and the first military defense satellite for the Royal Netherlands Air Force.

"With this second rocket into orbit, it's now hopefully going to become almost routine," Virgin Orbit Founder and Chairman Richard Branson said in a company livestream.

Cosmic Girl, Virgin Orbit's modified Boeing 747 carrier plane, launched from the Mojave Air and Space Port at roughly 9:50 a.m. carrying the company's LauncherOne rocket under one of its wings.

Around 10:47 a.m., LauncherOne was released from Cosmic Girl, and the payloads were deployed into orbit around two hours later.

"Every single countdown has its own personality," Virgin Orbit Chief Executive Dan Hart said. "This one had a couple of little tiny turns along the way. The team jumped on those and resolved them quickly."

On June 29, Hart told Space News that the company plans to perform at least one more mission with LauncherOne in 2021. Hart said Virgin Orbit will be "ramping up sharply" in 2022, and currently expects the company to complete six launches.

Virgin Orbit also signed a memorandum of understanding with SatRevolution that said it could partner with the company for hundreds of satellite launches through 2026, the company announced June 29.

"Both of our companies share the same desire to make space more accessible and therefore closer cooperation is the next natural step," SatRevolution co-founder and chief executive Grzegorz Zwoliński said in a statement.

Virgin Orbit focuses on launching small, low-Earth orbit satellites. The company spun off from Virgin Galactic in 2017. Virgin Orbit conducted its first successful launch of a rocket in January after a failed launch in May 2020, when a rocket released from a modified jumbo jet could not enter low-Earth orbit.

The company is reportedly considering going public through a $3 billion deal with Boca Raton, Fla.-based special purpose acquisition company NextGen Acquisition Corp. II.
For reprint and licensing requests for this article, CLICK HERE.