Business Journal Wins Top Awards
Thursday, June 24, 2021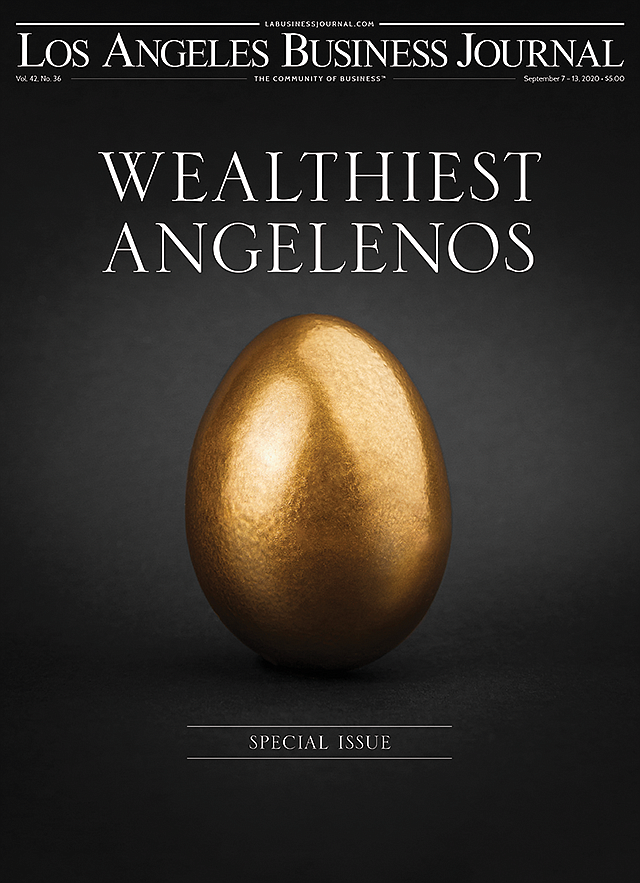 The Business Journal took home three awards June 23 in a journalism competition that spotlights the best work produced by business publications across the country.
The Alliance of Area Business Publishers awarded the Business Journal with Gold honors for Most Improved Publication.
The Business Journal also won a Silver award for Best Ancillary Publication for its 2020 Wealthiest Angelenos special issue.
Veteran Business Journal Reporter Howard Fine also won a Silver award for Best Body of Work by a Single Writer.
"Being recognized with multiple awards from such a prestigious organization is a not only an honor, but a testament to the efforts and dedication of the entire Business Journal team," said Los Angeles Business Journal Editor-in-Chief Scott Robson.
"Our editors, reporters and production staff have worked tirelessly over the past year in the face of unprecedented challenges to deliver best-in-class reporting and to dramatically elevate the quality of our coverage for L.A.'s community of business," he added.
The judging panel was comprised of faculty from the University of Missouri School of Journalism.
Judges called out the Wealthiest Angelenos issue for offering up fascinating short profiles on local billionaires accompanied by charts and graphics.
"It's particularly gratifying for the Business Journal team to be honored for our Wealthiest Angelenos special issue. This signature publication requires extensive attention to detail, great reporting and writing and terrific design. To have that hard work rewarded is something we all take pride in," Robson said.
The judges said Fine "mines unpredictable territory to find stories that surprise and satisfy," citing his features on the ways in which glass companies in Los Angeles rallied to board up storefronts during the 2020 social justice protests and how Fulgent Genetics became a Covid-19 testing juggernaut.  
"Not only is Howard our longest-tenured reporter, but he's also one of our finest. To have his work over the past year recognized just shows how much his contributions matter to the Business Journal and to our readers," Robson said.
The San Fernando Valley Business Journal, a sister publication, also earned three awards from AABP. In the small tabloid category, it won gold awards for Best Newspaper and Best Design while Publisher Charlie Crumpley earned the gold award for Best Bylined Commentary.
For reprint and licensing requests for this article, CLICK HERE.