Arrowhead Inks Licensing Deal for Drug to Treat Gout
Tuesday, June 22, 2021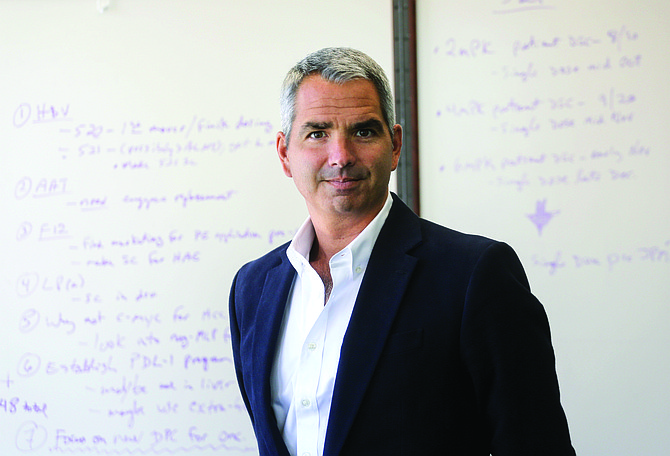 Pasadena-based biotech firm Arrowhead Pharmaceuticals Inc. has signed a licensing deal with Dublin, Ireland-based pharmaceutical company Horizon Therapeutics to try to take to market a drug being developed by Arrowhead to treat gout.

Under terms of the agreement announced June 21, Arrowhead will conduct all activities through preclinical stages of development of the drug. Horizon will receive a worldwide exclusive license to the drug and will be wholly responsible for clinical development and commercialization.

Arrowhead will receive $40 million as an upfront payment from Horizon and is eligible to receive up to $660 million in potential development, regulatory and commercial milestones. If the drug gets to market, Arrowhead is eligible to receive royalties in the low- to mid-teens range on net product sales.

Gout is an often-debilitating form of arthritis that is caused by excess uric acid in the blood. In the United States, there are more than 9 million gout patients and about a third of those patients are treated with oral urate-lowering therapies. Some patients do not respond sufficiently to treatment and continue to experience painful and debilitating gout symptoms.

The drug Arrowhead is developing to treat these cases of chronic gout uses its RNA interference drug technology platform, which silences genes that cause various chronic and intractable diseases.

"We believe Horizon's expertise in the clinical development and commercialization of therapies for gout makes them an ideal partner," Christopher Anzalone, Arrowhead's chief executive, said in the announcement. "This collaboration with Horizon also represents further expansion of our rapidly growing pipeline of investigational RNAi therapeutics."

Shares of Arrowhead jumped 4.9% to close at $89.81 on June 21, the day of the licensing announcement. That gain outpaced the 0.8% increase in the Nasdaq Composite Index on June 21. 
For reprint and licensing requests for this article, CLICK HERE.