Who's Building L.A: 2021's Most Popular Office Designs
Custom Content from the Los Angeles Business Journal
Monday, June 14, 2021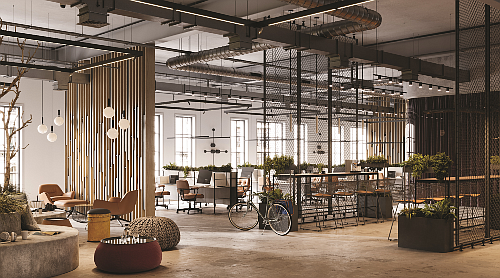 As more individuals head back to work amid the pandemic, many organizations have enlisted the help of office space planning professionals to adjust their workspaces for maximum safety and home-like conveniences. Unlike offices of the past, 2021 design trends blend the comforts of home with the functionality of a public workspace. The following guide highlights what's "in" this year.
1. Sustainable Design
In 2021, individuals and organizations are more focused on the environment than ever before, relying on eco-friendly and sustainable practices in their office space planning. Some incorporate green practices by upcycling existing office furniture or opting for natural materials that can be recycled and repurposed.
Workstations are arranged closer to windows to provide natural light, reducing energy use. In the kitchen, you may find a recycling station to discourage waste or a small compost bin for food scraps and coffee grounds that can then be donated to a community garden.
2. Pivot Spaces
In light of physical distancing measures, many organizations have turned to pivot spaces to keep their employees safe while supporting a functional workspace. Pivot spaces rely on modular furniture separated by easily-movable barriers, such as plants and room dividers, to turn open-concept floor plans into semi-private work zones.
Easy-to-move furniture allows individuals to adjust their stations as needed without extensive effort. Some setups rely on huddle stations that enable employees to sit at a safe distance while also sharing larger screens, ideal for collaboration or teleconferencing. Cafe-style pivot layouts rely on bar-height stools separated by screens and plants to provide distancing while also creating a sense of
connection among colleagues.
3. Resimercial Design
Resimercial design combines the comforts of home with the functionality of a contemporary office. It focuses on comfortable seating, soft ambient lighting, flexible workstations, and personalized accessories such as area rugs, lamps, and high-quality upholstery. In a resimercial office space, employees may have dedicated workstations or bring their laptops to a plush armchair near the window. Conference calls and board meetings may be held in a "family room" with couches and a coffee table rather than a single table lined with executive chairs. 
Information for this article was provided by Complete Office Installation. With over 50 years of experience, the company's office space planning and design team provides expert services, including office configuration, furniture installation, and relocations. Learn more at coipros.com.
Return to Index
For reprint and licensing requests for this article, CLICK HERE.