Companies Wrestle With Plans for Post-Pandemic Offices
Monday, June 14, 2021
What will office spaces look like moving forward?

That's the question on the mind of many landlords, tenants, architects and designers.

During the Covid-19 pandemic, remote work has proliferated. But now, as the number of vaccinated people rises and Covid cases decrease, many businesses are pondering the future of their office environments.

While some companies may allow employees to work from home full time, less than 20% nationwide expect to reduce their average square footage, according to a survey from office furniture-maker Steelcase Inc.
 
Steelcase, which has a showroom downtown, is working with companies to provide flexible seating, privacy options and outdoor furniture complete with power outlets.
 
Gale Moutrey, Steelcase's vice president of workplace innovation, said businesses are asking for help to figure out how their offices should be designed and configured.
 
"The workplace we return to will be highly collaborative," Moutrey said. That doesn't mean cramming as many people as possible into a small space, she added, but it involves thinking about what spaces need to do and planning better for those uses.

Stacy Garcia, an executive vice president at Stream Realty Partners, said that while some solutions are being pondered "for the future of the workplace, I don't think companies really know what that means just yet."

He added that there was "a clear need for some kind of hybrid model," which will be a part of many companies' plans. Garcia expects companies to decrease their square footage by an average of 33% to 50%.

Some companies, though, are on the hunt for new space or more space.
 
Eli Randel, chief strategy officer at Marina del Rey-based Commercial Real Estate Exchange Inc., said he has seen a 25% increase in demand for office leases in the first quarter this year compared with the last quarter of 2020.

"Big businesses are committing to the office ... the smaller businesses will follow," he said.

Bill Bloodgood, an executive managing director at Newmark Group Inc. said he was "seeing a tremendous amount of activity in the market as people recognize that we are getting our arms around this pandemic and a little more normal life is going to start up again."

"We are going to be going back into offices," he said. "We have seen a tremendous amount of activity in the market as people come to this realization, but we are still seeing a lot of uncertainty from users looking at how they are going to occupy offices."
Hybrid models
Experts believe many companies will switch to a hybrid work model where employees come into an office sometimes and work remotely at other times.

"It will be rare if people are really working five days a week at the office," said Jonathan Larsen, a principal at Avison Young Inc.

The brokerage recently signed a lease for a new downtown office, reducing its size from 13,105 square feet to 9,647 square feet. The new office at 601 S. Figueroa St.
 will have more flexible space with multiuse areas aimed at being
 attractive for a new hybrid work model.

Larsen thinks many companies will follow suit and take 10% to 20% less space.

Garcia agreed that more companies were working on collaborative and flex spaces.

"We'll go away from assigned desks to accommodate this flexibility with folks coming in part time," he said. "You're going to see areas designed for people who come in just a couple times a week. They don't have to sit in one specific spot."

Bloodgood said that while people may not need to be in an office every day, some do to enable collaboration and to build a workplace culture.

He said he is seeing some bigger leases for companies that want more space and some smaller leases for companies that are going to be leaning into more remote work.

"As a general comment, users will use less space in the future, but I don't expect it to be more than 10% to 15% less space. There are going to be a lot of companies that really try to shrink down their office footprint early in this process," Bloodgood said.

"(They) are going to realize at a later date that the companies that they are competing with and haven't shut down and have most of their people at the office most of the time are a lot more productive. And then they are going to be in the business of trying to grow their footprint," he added.

Moutrey said the company was working not only on spaces for people who only come in occasionally, but also technology to make communication easier. That can mean doing things like creating conference spaces where people who are in the office in person can be eye-to-eye with people who aren't.

"Thinking about where you place cameras, how many cameras you have in a room, how you design the room so the people in the room will be looking at the same eye level. That's where mobile technology comes in," she said.

Angles and acoustics, she added, are important, too.

The company is also working on things like tables that can be broken apart into smaller workspaces instead of just one long row. Moutrey said putting tables together in a V instead of side by side, for instance, can help make screens easier to see.
Hub and spoke
One idea for the future of workplaces that seemed to be gaining steam early in the pandemic was the hub-and-spoke model.

In this approach, a company would have a main office "hub" in a location such as downtown with smaller "spokes," or satellite offices, located elsewhere.

The benefits of this structure, according to experts, is that the satellite offices are closer to where employees live and often are in suburban areas with surface parking and low-rise buildings that do not require the use of elevators.

But despite some reports of companies looking into it as a possibility, experts say the approach hasn't become as popular as some thought it would.

"Hub-and-spoke has gotten a lot of press, and on the surface it makes a lot of sense, but I have not seen any examples of companies setting up hub-and-spoke offices yet," Bloodgood said.

Garcia agreed. He said some of his clients have opened smaller offices in suburbs, but the far larger trend was people taking smaller floorplates for offices.

Larsen added that some firms, like Avison Young, already have a number of offices spread out among the region, but he hasn't seen a lot of companies switch over to a hub-and-spoke model.

Outdoor space
One thing experts agree on is that future offices will involve a lot more outdoor space.

Steelcase has been working on furniture to accommodate the move toward more outdoor workspaces.

"You need things that are mobile, so you can adjust them," Moutrey said. "We are looking at how we can build shelter, so you are sheltered from the sun or the wind a little bit."

That means lots of things on wheels and mobile power devices, such as a device the company has that looks like a lantern that can be brought outside and used as a charger.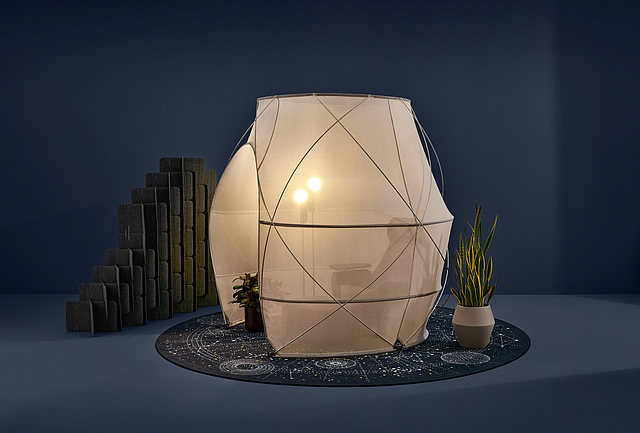 The company is also working on tents that can be easily set up to create privacy in the office.

Garcia added that it isn't just solo outdoor space, but areas where you can have meetings outside that are becoming popular.

He said tenants are incorporating more of that in their workplace designs, and landlords that have outdoor spaces are going to benefit.

"It will be interesting to see what developers do to accommodate," he said.

Bloodgood said the desire for more outdoor spaces at work isn't just arising because of Covid.

"That has clearly been a dynamic in the market for several years," he said. "We just now have more focus on it than we did in the past, and we are seeing more tenants want to be in ground-floor or second-floor types of space where they don't need to use an elevator and there is immediate access to fresh air and outdoor space. That's not a new trend, but it will be pervasive in the future."

Randel added that now is a time where tenants can make sure they get the spaces they want.

"Tenants are at an advantage now," he said. "They can be more selective because there is a lot of space that comes online. They are seeking amenities like outdoor space and things of that nature. The landlords who can adapt are adapting. Big landlords with flexible space are learning they can earn a premium with outdoor space."
For reprint and licensing requests for this article, CLICK HERE.