Battle Motors Launches Nationwide EV Charging Network
Monday, June 14, 2021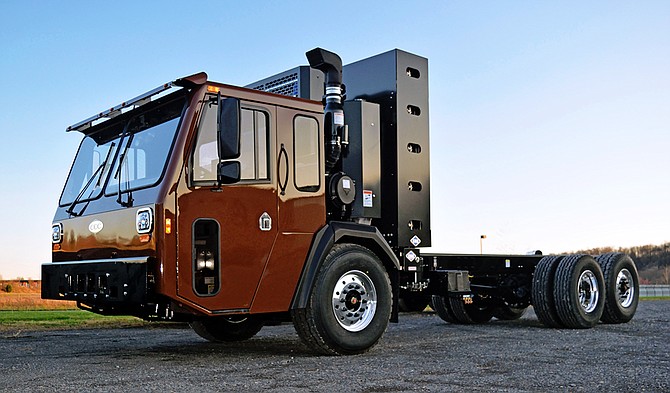 In December, Michael Patterson had a big hand in taking public a Vernon-based maker of lithium-ion battery packs for electric vehicles.
Now, he's shifting gears with a new startup.
Three months ago, Patterson launched Venice-based startup Battle Motors Inc., a privately held manufacturer of electric-powered garbage trucks, delivery vehicles and 33,000-pound tractors used to haul trailers.
Patterson, who co-founded battery pack-maker Romeo Power Inc., left that company as its chief sales officer on April 15 to focus on Battle Motors.
Crane Carrier Co., an EV manufacturer that gave the company a production line for electric vehicle trucks in Ohio, will be rebranded as Battle Motors.
Crane had roughly $60 million in sales in 2020, but Chief Executive Patterson forecasts $140 million to $180 million this year through his expansion plans.
On June 1, Battle Motors partnered with Miami-based PositivEnergy to install charging stations at roughly 180 city-owned sites across North America.
The stations, which average about $50,000 to permit and install, are part of a larger plan by Patterson to build out a coast-to-coast electric vehicle infrastructure to support EV trucks that the company is building in New Philadelphia, Ohio.
"Municipalities won't have to deal with permitting and the site inspections. We take that off of their hands. It'll be one-stop shopping," Patterson said.
He added that he wants to expand the company's truck-making capacity from a 130,000-square-foot factory to a 400,000-square-foot facility at that site. He also expects to increase the number of production lines from four to eight for Battle's garbage trucks and eight-wheeled delivery trucks.
The Ohio factory employs 135 workers who produced more than 600 trucks last year, Patterson said. He envisions production increasing to 1,550 trucks this year.
Patterson is also considering a factory in the Los Angeles area, possibly in Vernon, El Segundo or through a lease for 400,000 square feet at the former home of Boeing Co.'s C-17 cargo plane plant on Wardlow Road in Long Beach.
"There'll be eight production lines in Ohio and eight on the West Coast," Patterson said.
Battle Motors also is nearing a lease to move its headquarters to Santa Monica, where it is considering a showroom to display its trucks.  
Crane Carrier's EV garbage trucks are already humming around the streets of Beverly Hills, Malibu, Santa Monica and Venice, as well as on freeways maintained by the California Department of Transportation.
For reprint and licensing requests for this article, CLICK HERE.