NuOrder to Be Acquired in $425 Million Deal
Originally published June 8, 2021 at 7:50 p.m., updated June 11, 2021 at 3:01 p.m.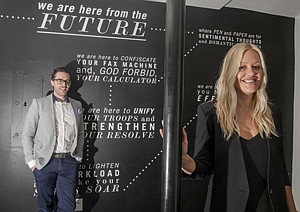 NuOrder Inc., a Century City-based ecommerce platform for brands and retailers, is set to be acquired by Lightspeed in a $425 million deal.

Lightspeed, a point-of-sale software provider based in Canada, announced the acquisition on June 7. The company said it would pay $212.5 million in cash and $212.5 million in subordinate voting shares for NuOrder.

The deal, which Lightspeed said will help the company further its role in supplier relationships and transactions, is expected to close by Sept. 30.

"At NuOrder, we have been on a journey to revolutionize retail by building a global network for brands and retailers. The coming together of Lightspeed and NuOrder accelerates that vision exponentially. The power of connected commerce comes to life now," NuOrder co-founders and Co-Chief Executives Olivia Skuza and Heath Wells said in a statement. "We are thrilled to join forces with Lightspeed to unlock transformative value for brands and retailers globally. This represents an inflection point in the history of retail."

Founded in 2011, NuOrder works with more than 500,000 retailers and more than 3,000 brands to facilitate online business-to-business transactions.

The company provides virtual showroom and payment processing features that speed up the order process for brands and allows retailers to visually browse products and check availability.

Retailers that use NuOrder's platform to buy and sell products include Nordstrom Inc., Saks Fifth Avenue, Bloomingdale's Inc. and Grassroots Outdoor Alliance.

Approximately $11.5 billion in orders were made through the company's platform for the 12-month period that ended in March.

NuOrder generated annual revenue of more than $20 million in the year ending in March and has grown at a rate of more than 30% year over year.
For reprint and licensing requests for this article, CLICK HERE.