Stock Awards Pay Off Big for Bobby Kotick, Andy Heyward
Monday, June 7, 2021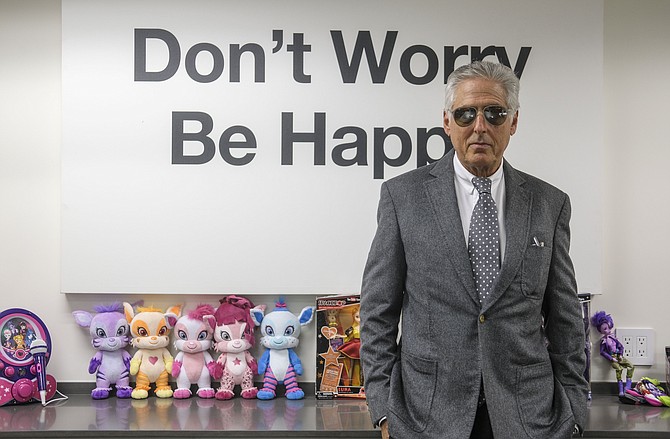 The numbers are staggering.

For two local chief executives, Bobby Kotick at Activision Blizzard Inc. and Andy Heyward at Genius Brands International Inc., 2020 brought a massive windfall in total compensation.

Kotick saw his total package increase by $124 million last year to reach a stratospheric $155 million. And Heyward's compensation soared more than 40-fold to $17.4 million in 2020 from $411,000 the previous year, according to the Business Journal's annual executive pay list.

These are two of the more extreme examples of the latest trend to grip the world of executive compensation: equity-based compensation, which ties pay for chief executives at a publicly traded company to that company's stock performance.
The idea is simple in theory: Incentivize the CEO to run the business in ways that increase its share price and benefit shareholders.

"There is such a huge prevalence of equity-based compensation these days," said Ian Larkin, professor of strategy at the UCLA Anderson School of Management. "It's simply how most companies compensate CEOs."

But this past year — even as the pandemic raged and disrupted the fortunes of so many — a number of factors converged to bring about compensation bonanzas for both Kotick and Heyward.

For starters, the stock markets had an excellent year in 2020, rebounding from a pandemic-induced crash in February and March to record hefty annual gains. The Nasdaq, where both companies trade, gained 44%. CEOs whose pay is tied to stock performance were poised to benefit from surging markets.

Kotick: playing the games

Activision had a strong year in 2020 as people who were trapped indoors during the pandemic turned to the company's online and mobile video games along with its esports leagues.

Activision revenue last year jumped nearly 25% to $8.1 billion, and net income surged 47% to $2.2 billion. The company's share price gained 57% during 2020.
 
Kotick's compensation package, however, far outpaced those gains. His pay skyrocketed by 413% last year. He also had the largest dollar gain of any chief executive on the Business Journal's list by a wide margin.
Activision's 2021 proxy statement notes that over the past four fiscal years since Kotick's current employment agreement began, the company has created $45 billion in shareholder value.
"We achieved our ambitious shareholder value creation goals and last year we awarded our CEO compensation reflecting this tremendous four-year achievement," the proxy stated.

In a recent interview with the Business Jo
urnal, Kotick attributed the company's performance to strategy shifts.

"I think our success last year was the result of strategy changes over the last few years and then very good execution," Kotick said. "I think it's that very good execution that resulted in a lot of what we saw as overperformance."

The big driver of Kotick's compensation package was a series of stock awards that were part of a five-year employment agreement he reached with Activision's board in 2016.

"Kotick's share grants have a fair market value of $150 million," said Kevin Murphy, professor of finance and chairman of the finance and business economics department at the USC Marshall School of Business. "The board told Kotick in 2016 that he could get these shares, and the board set the terms that were contingent upon the share price meeting certain goals."

In 2016, the company put a value of these share awards of $50 million, Murphy said. "But instead, the value was three times that amount because the share price did so well — reaching 27% per year compound growth — that the cumulative shareholder return exceeded those expectations."
 
Murphy said Kotick's total compensation of $154 million in 2020 "certainly puts him in the top echelons in terms of CEO pay across the country."

This outsized compensation package has not gone unnoticed by Activision shareholders, some of whom raised concerns to the company's board. According to the proxy statement, Kotick passed up his salary for the final four pay periods of 2020, equivalent to taking a 15% pay cut.

The board's compensation committee almost halved Kotick's salary for 2021, with the new amount being $875,000.
 
"The compensation committee took these actions to address shareholder concerns regarding the quantum of the CEO's compensation," the proxy stated.

Heyward: stocking up

In contrast to Activision's gains, Genius Brands International had a lousy year in 2020.

The company, which produces video content and related merchandise for children and tweens, saw revenue fall 58% to $2.5 million.

Genius Brands also racked up a loss of $402 million, which was much larger than its 2019 loss of $11 million.
 
In its annual report, Genius Brands attributed the huge loss to the company's issuance last year of $390 million in warrants and options to raise working capital for its various entertainment projects and to repurchase shares. The report said the company's actual operating loss was roughly the same as in 2019.

"These losses, among other things, have had an adverse impact on our results of operations, our financial condition, stockholders' equity, net current assets and working capital," the company stated.

Despite this huge loss, Genius Brands' share price surged 411% to $1.38 in 2020, though that was up from a penny stock level of 27 cents a share at the end of 2019.
 
In its annual report, Genius Brands notes that the stock has a limited public float and that trading volume is generally low and sporadic, setting the conditions for significant volatility in the share price. "The market price for our common stock may not necessarily be a reliable indicator of our fair market value," the company said.

Heyward's compensation package is tied to the company's share price performance, which begins to explain the huge gulf between his 40-fold gain in compensation and the company's large 2020 loss.

USC's Murphy said that much of Heyward's compensation gain is somewhat illusory. That's because accounting rules require Genius Brands to state the fair market value of share awards, even before they vest.
 
Under terms of Heyward's 2018 employment agreement with the board, on Dec. 7, 2020, he was awarded 7.5 million restricted stock units (equivalent to shares) that on that date had a market value of $10.4 million and 5 million options with a market value on that date of $5.75 million.
 
The combined equity awards were worth more than $16 million. The remaining $1.3 million of his $17.4 million in compensation came from his salary and bonus as well as nearly $500,000 in producer's fees paid by third parties.

The annual report also notes that Heyward on Dec. 7 received another 7.5 million restricted stock units with a market value of $10.4 million. The company chose not to count this set of RSUs toward his 2020 compensation, although USC's Murphy said he saw no reason why they shouldn't have been counted.

In any event, Murphy said, the value of these shares is transitory.

"He got a big grant of equity that may or may not be worth a whole lot when the RSU shares vest," Murphy said. "So, it's a really big number, but next year, there's a good chance that compensation might fall."
Keep reading the 
2021 Executive Compensation Special Report
.
For reprint and licensing requests for this article, CLICK HERE.