CenterPoint Buys Industrial Site in Carson
Monday, June 7, 2021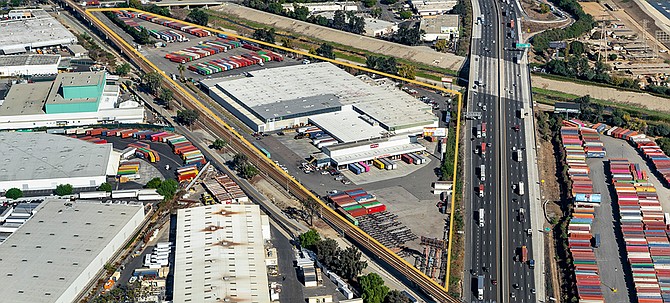 CenterPoint Properties has purchased a large industrial property in Carson for an undisclosed sum in a sale-leaseback transaction.

The 264,450-square-foot property at 2850 E. Del Amo Blvd. sits on more than 19 acres with parking for 180 trailers and 47 cars.

"This property offers every logistical advantage an ecommerce company or port user could ask for," CenterPoint Senior Vice President of Asset Management Bob Andrews said in a statement. "As currently configured, it's optimal for tenants needing transload capability, and we have the option to cater to last-mile users, as well."

The building also has a 10,500-square-foot office space and high ceilings. It has 66 dock-high doors and 29 drive-in doors.

"This investment is the epitome of our infill investment strategy; 2850 E. Del Amo is a preeminent logistics asset in the L.A. Basin and a trophy property for the CenterPoint portfolio," CenterPoint Senior Vice President of Investments Evan Lippow said in a statement. "Our team worked extremely hard to secure this transaction and will continue to aggressively pursue similar assets in coastal gateway markets across the country."

Properties in the submarket with a similar size and coverage area are very desirable, according to CenterPoint. The company added that congestion in the ports has pushed demand for nearby properties.

Industrial properties in the South Bay had
 a vacancy rate of 2.2% during the first quarter of the year, down from 2.4% the previous year, according to data from Jones Lang LaSalle Inc.
 
During the quarter, 3.3 million square feet of industrial space sold or leased and asking rents were $1.05 on a triple net basis, up 1 cent from the previous year, despite the Covid-19 pandemic.
 
JLL's Nicholas Foster and Zac Sakowski brokered the sale-leaseback transaction.
In a sale-leaseback deal, a company sells a property and immediately leases it back.

This benefits the sellers who get an infusion of cash while remaining at their current sites. And it benefits buyers who buy property with tenants already in place, which means guaranteed rent right off the bat.
For reprint and licensing requests for this article, CLICK HERE.