Hueston Hennigan Signs PacMutual Lease
Tuesday, July 27, 2021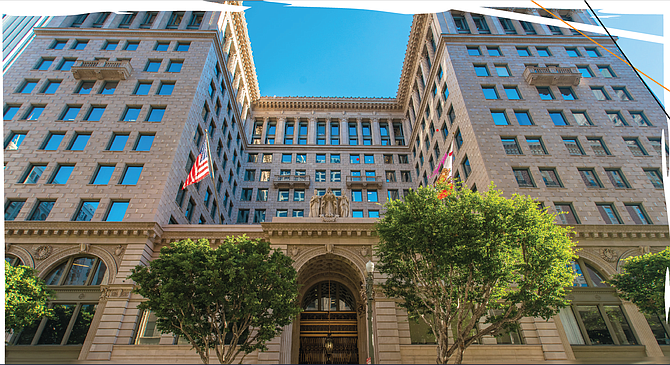 Law firm Hueston Hennigan has signed a nearly 34,000-square-foot lease expansion and extension at downtown's PacMutual campus.
The lease is for almost seven years. Roughly 25% of it is an expansion.
Ivanhoé Cambridge is the property owner, and real estate firm Hines serves as the asset manager.
"Hueston Hennigan is widely recognized as one of the premiere litigation firms in the country. We are very happy that they have chosen to expand and extend their occupancy at PacMutual, when considering all of their other options in the downtown marketplace," Jim Bonham, senior managing director for Hines, said in a statement.
Jones Lang LaSalle Inc.'s Mike McKeever represented Hueston Hennigan in the transaction. Avison Young's John Eichler and Tyler Stark represented the owner.
"My client had a number of attractive relocation alternatives in the marketplace. But in the end, Hueston Hennigan felt the PacMutual building profile allows for a unique, creative law space build-out featuring elements from the original building construction, providing a different workplace experience than most downtown Los Angeles properties. The central location delivers a connection to the diverse downtown Los Angeles community and access to multiple amenities," McKeever said in a statement.
PacMutual was designated a city of Los Angeles Historic-Cultural Monument in 1982.
The PacMutual campus, at 523 W. 6th St., has three buildings totaling 460,000 square feet: the Sentry Building, which was built in 1922; the Clock Building, which was built in 1908; and Carriage House, which was built in 1927. Amenities include a fitness center, yoga studio, bike locker, rooftop patio, multiroom conference facility and tenant lounge.
The downtown office market, like many others in L.A., was hit hard by Covid. 
During the second quarter it saw a vacancy rate of 19.3%, up from 16.9% the previous year, according to data from JLL.
The market also saw almost 192,000 square feet of negative net absorption.
Asking rents for Class A office space, meanwhile, was $3.83 a square foot, down 1 cent year over year.
For reprint and licensing requests for this article, CLICK HERE.