Skechers Tops Earnings Expectations for Second Quarter
Monday, July 26, 2021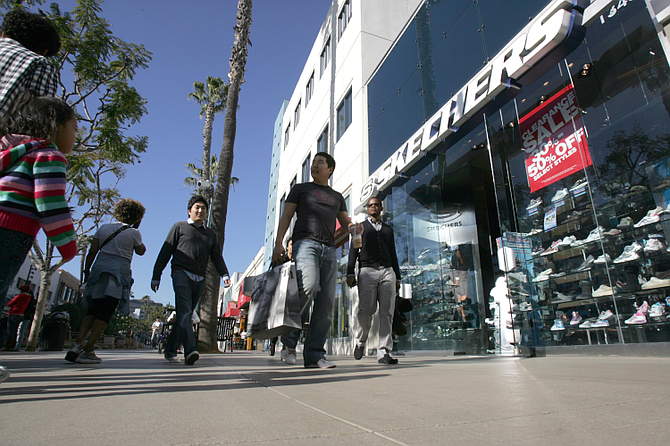 Shares of Skechers U.S.A. Inc. rose about 8% after the Manhattan Beach-based designer and manufacturer of footwear and apparel beat top- and bottom-line forecasts for the second quarter.
 
Skechers posted sales of $1.66 billion, an increase of 127.3% year over year and a gain of 31.7% compared to the more stable second quarter of 2019.
 
Net income for the period reached $137.4 million, or 88 cents a share, a rebound from a loss of $68 million during the second quarter of 2020.

Wall Street analysts had anticipated net earnings of 49 cents a share on revenue of $1.48 billion.

"Skechers' second-quarter results were remarkable and even exceeded our internal targets for the period," Chief Financial Officer John Vandemore told analysts during the earnings call on July 22. "We delivered these results despite lingering obstacles imposed by the pandemic, including supply chain challenges, continued store closures and operating restrictions primarily in some international markets."

Chief Operating Officer David Weinberg added that the company's growth is "a result of increases across all reportable segments (and reflects) higher average selling price and significantly more units sold, less promotional activity during the period, and consumers embracing our comfort technology and our seasonal athletic and casual footwear lines."
 
Domestic wholesale grew 205.7% to $399.7 million year over year, while international wholesale increased 94.8% to $750.2 million, driven by 150.2% growth in European market and 50.9% growth in China. The regions also posted increases when compared to the second quarter of 2019 — up 85% and 68%, respectively.
 
Direct-to-consumer revenue was up 137.8% to $507.9 million with both domestic and international retail stores contributing to the growth that was offset by slight declines in domestic ecommerce sales.
 
Skechers operated 512 stores in the United States at the end of the quarter and 339 overseas. It also had 482 joint venture stores and another 2,724 licensee and franchise stores, for a total of 4,057. This year, the company opened 352 stores and closed 186.

Given the "outstanding performance this quarter as well as cautious optimism that the recently resurgent virus impact will be limited," Weinberg said Skechers anticipates third-quarter sales between $1.6 billion and $1.65 billion and net earnings per share in the range of 70 cents and 75 cents.
 
Full-year revenue will likely come in between $6.15 billion and $6.25 billion, with earnings per share between $2.55 and $2.65.
For reprint and licensing requests for this article, CLICK HERE.