M+D Properties to Sell Mixed-Use Entertainment Center
Tuesday, July 20, 2021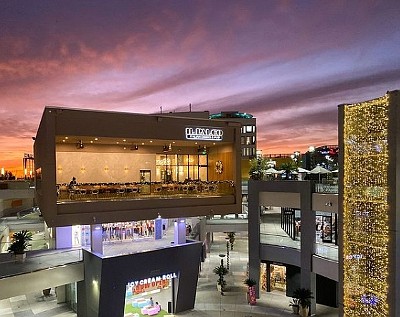 Lynwood-based M+D Properties is looking to sell the Source, a 600,000-square-foot mixed-use entertainment center in Buena Park, following bankruptcy proceedings by the owner, Fountain Valley-based Golden Capital Venture.
The mega-development, which opened about four years ago along Beach Boulevard, includes a retail center, office building and a yet-to-open hotel. 
An asking price hasn't been disclosed. NAI Capital's Chris Jackson, Ted Atalla, David Shaby and Grant Bullen are the brokers for the Source.
The 200-room Radisson Suites Hotel recently hit the market for $24 million, slightly more than the $23.4 million it last sold for in 2015.
A deal for that price would work out to $120,000 per room and would mark the largest hotel transaction in Orange County during the pandemic that hit the region in March, subsequently halting tourism and hospitality operations.
The hotel, at 7762 Beach Blvd. about 6 miles from Disneyland Resort, has struggled in recent months as a result of a diminished tourism base and low occupancy rates, which have been between 10% and 15% as of late, according to bankruptcy documents.
The hotel's owners, a unit of Fountain Valley's Invobal Corp., defaulted on loan payments for the property starting in April. In July, Wells Fargo filed a lawsuit for the appointment of a receiver. The principal balance on the loan, initially made with Bank of America, is about $16.4 million.
The mortgage now is tied to a larger CMBS loan; Wells Fargo is acting as the trustee.
"Historically, the hotel was largely dependent on tourists visiting Knott's Berry Farm and Disneyland, both of which closed in mid-March," court documents said. "Beginning in February, the debtors started receiving cancellations."
This resulted in furloughing employees, with just 15 staff members currently.
The largest local hotel sale to occur so far this year was in January, when the Sheraton Park Hotel at the Anaheim Resort sold for $51 million.
New York-based Taconic Capital Advisors bought the 486-room property for nearly $105,000 per room from Bethesda, Md.-based CW Capital.
This article originally appeared as "Buena Park Hotel Hits Market for $24M" on OCBJ.com.
For reprint and licensing requests for this article, CLICK HERE.