Uniper Care Raises $15 Million to Expand TV Platform for Seniors
Monday, July 19, 2021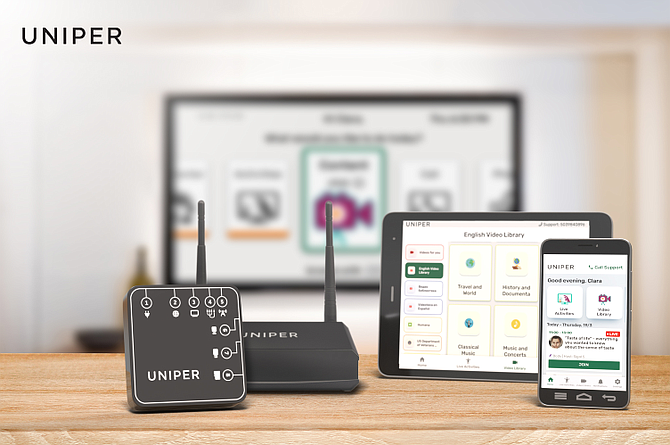 Uniper Care Technologies, a home-based senior services content provider headquartered in Tel Aviv, Israel, with its U.S. headquarters in Palms, has raised $14.5 million to expand its television-based platform in the United States.

Uniper's June 29 announcement said the Series A funding round was led by Palo Alto-based Zeev Ventures and Tel Aviv-based venture capital firm Aleph. Combined with two previous funding rounds, Uniper has raised nearly $21 million.

Founded in Tel Aviv in 2016, Uniper Care's core technology is an Android-based television set-top box and remote control device with an embedded microphone that allows seniors to access and interact with an array of senior-focused content delivered through their TVs.
 
The content includes entertainment, assistance performing daily activities, and interactive sessions with family members or other seniors and telehealth services.
The idea is to deliver these programs and services through a medium most seniors are familiar with — their TVs — without having to master advanced apps or technologies.
 
The goal is to make it easier for seniors to age in place in their own homes instead of having to live in the communal settings of assisted living facilities or retirement communities.

"Uniper Care developed a breakthrough solution that helps seniors safely age with independence," Oren Zeev, founding partner of Zeev Ventures, said in the announcement.

While Uniper Care got its start serving senior citizens in Israel, its founders, including Chief Executive Rami Kirshblum, quickly realized that the United States had a much larger market, with 52 million people over the age of 65 in 2018. That year, the company used its first outside seed investment of $2.4 million to open a U.S. headquarters in Palms. A spokeswoman said that office now has 21 employees.
In the United States, Uniper developed a business model of signing contracts with health care insurers and public and private social service providers to cover the cost of installing the set-top boxes and crafting the programming and services for senior citizen users.
 
Among these paying entities: health insurers offering Medicare Advantage plans, the Health and Human Services and Veterans Affairs departments, and various private nonprofits, including Jewish human services agencies.

The selling point for these payers is that by making it easier for seniors to stay at home, they won't have to seek services in more expensive environments, such as assisted living facilities. And seniors retain the opportunity to live more active lifestyles, which in turn boosts their mental and physical health.

"Hundreds of care partner organizations and some of the largest health plans in the U.S. now have a customizable platform to help seniors age healthier and happier," Kirshblum said in the announcement.

With this latest funding round in place, Uniper Care executives said they are prepared to take advantage of $1.4 billion in new federal funding for senior services that is part of the American Rescue Plan enacted earlier this year. 
For reprint and licensing requests for this article, CLICK HERE.